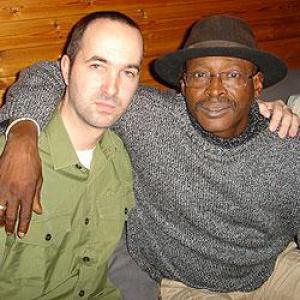 Afel, for starters could you maybe explain what the title of your new album 'Tabital Pulaaku' is all about?
Afel Bocoum: ""Tabital" simply means "the enforcement" and "Pulaaku" means "Fula", so it's "the enforcement of Peul culture". Ever since the sixties, the drought has become an increasing problem in Mali, resulting in the decimation of the livestock numbers. The Fula were left behind without animals and many saw no other option then to head for the big cities to try to make a living selling sweets, herbs or whatever. The city is no place for a Fula, though; the Fula are herdsmen and their territory is the desert. The title of the album is a cry of alarm to raise awareness for this problem. If things go on this way, the Fula risk losing their language and even more."
You're mentioning language there and you perform your songs in several languages as well. Do you speak all of them fluently?
Afel Bocoum: "No, not really, Tamasheq, for example, is a language I'm not fluent in. I write my songs in French first and afterwards I do my best to translate them and try to familiarise myself with the right pronunciation and accent. Pulaar, Bambara and Songhai I do speak on an everyday basis."
How do you start writing your songs?
Afel Bocoum: "I didn't go to school all that long and only got my high school diploma, so I'm not really a well-educated man, but I've travelled a lot and I've visited the five continents. On those travels, I've met the most extraordinary people. I try to listen and understand the problems people are facing. I get information and afterwards inform others in turn. Climate change, for example, that's something most people in Mali haven't even heard about, so someone needs to explain it to them."
Take us back to your beginnings as a musician for a moment. You already started working with your uncle, Ali Farka Touré, at age thirteen, right?
Afel Bocoum: "Well, at the time I was really only in charge of making tea. I accepted that job because I really loved his music. At that stage, I didn't even know he was my uncle yet, I just wanted to make music like he did. One day, the lead vocalist didn't turn up and I decided to take my chances and step in. That's how everything started."
Ali Farka Touré was your uncle and your colleague for many years. What would you say has his importance been in Malian music history?
Afel Bocoum: "First and foremost, he was the first one to popularise the music from the north of Mali. He managed to adapt traditional instrumentals and make them suitable to be played on guitar. He was a very gifted musician as well; apart from the guitar he also played the accordion, the njurkel, the violin, the flute and the calabash. Ali was also a great humanist; everything he earned with his music he invested in the improvement of local agriculture. He was a true monument and now that he's gone we're starting to suffer again. Niafunké (situated at 250 kilometres south-west from Timbuktu, the village rose to fame as being the birthplace of the Malian singer Ali Farka Touré, who invested largely in local agriculture. He became mayor of the town in 2004 and would remain in function until his death in 2006, red.) can now no longer count on Ali's funds and everything is already starting to crumble again. Maybe Vieux, Ali's son, will be able to replace his father, but only time will tell."
In your music you often make use of the njarka, a kind of traditional single-stringed fiddle.
Afel Bocoum: "Yes, my father was one of the greatest violinists in the whole of Mali, but sadly, I never had the chance to see him play. I found an old instrument one day and was told that it had been my father's. In Mali the njarka is considered a satanic instrument and originally it was played exclusively by women. It was said that a skilled woman could use it to seduce her husband. At one stage the njarka had virtually disappeared and it was then that men also started playing it."
Since you're mentioning Satanism there, this might be an excellent moment to ask you about Bankaïna, the hole of the devil, a place you mention in the song 'Fina Tawa'.
Afel Bocoum: "The village where I was born is called Ngoro and is situated a couple of kilometres from Niafunké. It's there that you can also find the hole of the devil. The guardian of this sacred place for devotees of the voodoo religion is a leper. In the song, I speak of the traditions that are still there, ready to be discovered, but also about the necessity of initiating our youths. Today's youths are impatient and want to know the truth behind things. If they don't get the explanation they are looking for, chances are they will reject things all together. In the song, I'm stating that everything we inherited from our ancestors has its value and rejecting it might cause its disappearance. That's Africa's greatest drama; in Europe there's a tradition of keeping written records, but in Africa things are only passed on orally. We have to move with the changing times, but we have to be careful not to want to change everything."
It's clear you place a lot of importance on the content of your songs, but at the same time you sing in languages your western audiences do not understand. Is your message less important for them than for your African compatriots?
Afel Bocoum: "I listen to a lot of different types of music myself and I must admit I don't always understand what's being sung either, but that's not what I look for in music; what fascinates me are the vibe and the rhythm of a song. It's not because you don't understand a song that you cannot enjoy it. In Africa, the message is of much more importance because a lot of people never went to school there, so music is the only way for them to learn about something. When I come to Europe, I do tend to add a brief introduction before each song; that way the people in the audience know at least what the song is about."