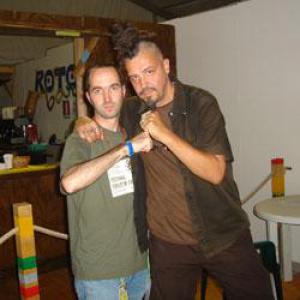 Mada, Africa Unite is Italy's biggest reggae band I believe?
Franco 'Madaski' Caudullo: "(laughs) Yeah I think so, we're certainly the oldest. We started in 1981, me and Bunna (born Vitale Bonino, red.), the singer. The first few years we played in Italy and in the nineties we also started touring in the rest of Europe."
Africa Unite was formed right after Bob Marley passed away. Was his death the inspiration to form the band?
Madaski: "Well, we started out playing Bob Marley covers."
So you were a sort of Bob Marley tribute band then?
Madaski: "Not completely. We played a lot of Bob Marley songs, but we started composing our own songs very soon after. Our version of reggae is slightly different because there are a lot of influences of electronic music in our music. We tried to fuse all our influences and experience into our music, thus creating our own unique style. Africa Unite is not Jamaican, we come from Italy."
Bob Marley was a Rastafarian. Did that philosophy also influence Africa Unite?
Madaski: "No, I truly believe our culture is too different. As I just said, we come from Italy, not Jamaica. I respect their beliefs, but it's not my way of life. I don't believe in that interpretation of history and religion."
Historically there is a connection between Italy and Ethiopia though.
Madaski: "(laughs) Yes, when Mussolini's fascists ruled Italy, they invaded Ethiopia, but that's just a small and rather unimportant chapter of our history."
When you started out in the beginning of the eighties, was it difficult being a reggae band in Italy?
Madaski: "Yes, in the beginning it was certainly difficult. It was difficult to be a band of any sorts in Italy, because here you only had the tradition that we jokingly call the "spaghetti mandolini", belcanto music that you can still hear at the San Remo festival for example. Now, after many years, the alternative scene - if you want to call it that - is finally growing. I really want the people in the rest of Europe to know that reggae is very popular in Italy now. We have a lot of bands, concerts and so on."
Being the oldest reggae band in Italy, do you support or assist some of these upcoming young bands?
Madaski: "Yes, I'm a producer too. The reggae scene is maturing in Italy now and the sound differs from region to region."
With Africa Unite you also played live in Jamaica.
Madaski: "Yes, in 1991 we were invited to play the Reggae Sunsplash festival, but at the last moment that fell through, so we played some smaller gigs across the island. It was a strong experience for us and we learned a lot."
You're playing here at the Rototom festival too this year. Is playing a concert for a home audience like this very different from playing for a crowd somewhere abroad?
Madaski: "Sure, we've been playing here for over 25 years now and we've built a large fan base. Outside of Italy we still have to start from zero most of the time. It's like going on a blind date. It's a strong experience in both cases though. We like to play and we kind of get alive when we're onstage. It's our way of life and the size of the crowd does not really matter. For us playing live is the most important thing."