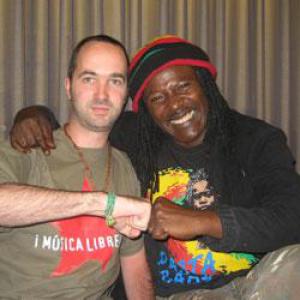 Alpha, tonight you're on stage at the Reggae Geel festival. They're already celebrating their 30th anniversary this year; do you know the festival?
Alpha Blondy: "It's my first time here, but I'm really honoured they've thought to invite me for this jubilee edition."
Let's talk a bit about your last album, 'Jah Victory'. You vowed not to record another album until peace was restored in your native Ivory Coast. Why did you take that stance?
Alpha Blondy: "It was my humble way of protesting against the war in my country. I owe a lot of my success to my fellow Ivorians; they helped building my career and when you then have to watch your musical godparents kill one another, you're left torn because taking sides is not an option. My music comes from the heart, but my heart was bleeding, so I decided not to release any music anymore until this war was at an end. By the grace of God, the weapons' fire ceased and the politicians started negotiating again. I did not want to pretend this victory was manmade, because it was of a higher making and that's why I named the album 'Jah Victory'."
You were also appointed special envoy for the United Nations. What exactly did that appointment entail in practical terms?
Alpha Blondy: "It kind of green-lighted me to start talks with the political powers in Ivory Coast, with the different parties involved in the conflict, the fighting factions and not only talk to them, but also listen to their proposals as a means to get out of this crisis as soon as possible. I'm proud to be able to say that I contributed to the Ouagadougou agreements that are in place right now. I was given an audience by president Babo as well as by Saura Dion, the secretary-general of the rebel movement. My approach was very simple: when I met up with the different factions, I listened attentively to the demands they were making and from there, it was easy to extrapolate a common solution."
Respect, that's not a mean feat.
Alpha Blondy: "In this case the respect is due more to God than to me, I'm afraid! (laughs)"
For the album you did a cover version of Pink Floyd's 'I Wish You Were Here'; a bit of an odd choice for a reggae artist to make, no?
Alpha Blondy: "Well, I guess we all have a little rocker inside of us. If you look at Bob Marley, for example, he always said he played roots rock reggae, no? This time, I decided to cover 'I Wish You Were Here' because it's a timeless tune, which, at the time when I was still living in New York, smoking big spliffs in Central Park, reminded me of the friends I left behind in Ivory Coast. Today, so many years later, I wanted to do a version to honour all my friends that aren't here anymore; friends who, each in their own way, contributed to my career in one way or another. Together with Tyrone Downie (keyboardist/pianist with The Wailers Band and also with Peter Tosh, Tom Tom Club, Burning Spear and Sly & Robbie. He currently resides in France, red.) I think I succeeded in revitalising the song and giving it another dimension. 'I Wish You Were Here' is a song you can play in just about any style you want. Great bands like Pink Floyd always seemed to produce songs that were timeless and adaptable."
You just mentioned your time in the U.S. there, an experience that, if I can be so bold, ended disappointingly. What advice would you give your young countrymen who are possibly dreaming the same American dream?
Alpha Blondy: "I think everyone should have the right to experience life for themselves. The reality of my American dream was hard, but the experience was also very instructive. The Lord works in mysterious ways. I thought I'd lost everything when I returned from the States, when in fact I had gained so much. It was in America that I started to write my own songs and it was there that I met all the great stars of reggae music; in a way I was ignorant to the riches my trip had left me with. It was my tour of duty in the service of the Almighty; he forged my character over there and he humbled me to lift me up again. Everybody has his own life to live; we're all subjected to that same faith. Take your fellow countryman Jean-Claude Van Damme for example; when he was still living in Europe, no one acknowledged his potential to make it on an international level, and it wasn't until he decided to take his chances in the States that everything took off. We all have to follow a similar path of initiation and from there you can either go on to fulfil your greater destiny or fail miserably in life instead."
You were in great part raised by your grandmother, Chérie Coco. How do you remember her?
Alpha Blondy: "She is still with me every day! The love she instilled in me helped me find my way in life even in the darkest, most difficult moments. She used to say: "If in your search for God you forget about man, your search will be in vain!" I've always remembered that. It means that God is man and vice versa. I'm a child of the countryside and that has played an important role in how I look at life. I'm not at ease in cities like Brussels or Paris, because these places turn at an insatiable pace, are full of stress and competition and basically lack humanity. That's something I experienced myself when I was still signed to a large music label. Of course they helped me launch my career, but I always felt there was something missing. Personally, I rather follow the rhythm of the sun. That's why if you want to find people like my grandmother, it's in the countryside you have to look and if at all possible even in the Ivorian countryside. When I'm in Abidjan, I spend most of my time in Bassam, on the outskirts of the city. I always say: "You can get a peasant out of the countryside, but you can't get the countryside out of the peasant." (laughs)"
In your song 'Cocody Rock' you immortalised a part of Abidjan known as Cocody. What can you tell us about that part of the city?
Alpha Blondy: "Cocody is the upper-class area of Abidjan; the district where all the high dignitaries live. The kids of these rich people sought a way out of the boredom of their existence and became our friends. When they needed some herb, they had to come to the ghetto, and because most of them had travelled already, they were the first to get some decent reggae albums. Because I had been to America they felt a connection and, before we knew what was happening, we all united in a kind of Rastafarian tribe. All these events inspired that song."
You're also one of the few reggae artists I know who sing in Hebrew.
Alpha Blondy: "When I visited Israel I lost my heart to places like Jerusalem and Masada. I really wanted to capture my emotions in a song, but I wanted it to be in Hebrew to reflect the spirit of the country. My Israeli friends translated the song I had written. I still don't speak Hebrew today, but the sentences I use in my songs are grammatically correct. It's also my way of showing sympathy to all the people who are inspired by Judaic spiritualism."
As a roots reggae artist, do you feel connected to Ethiopia as well?
Alpha Blondy: "To me, the concept of Ethiopia far extends the boarders of the country in Africa. Ethiopia stretches out from Brussels to Abidjan passing through Kingston. My philosophy is simple: God is my religion! I don't like to be pushed into concepts that often lead to belligerence. God is a non-geographical, timeless concept and we're all God's children. Personally, I try to avoid the whole Rastafarian debate. My spirituality extends to humanity as a whole and all living beings. I guess you could call me an extreme pantheist. (laughs) I refuse to be limited by religious rules and regulations. God should be visible in every aspect of the universe."
Let's end the interview on a Belgian note. Somewhere in the eighties the Belgian band Twee Belgen released a version of what is probably your biggest hit to date, 'Brigadier Sabary'...
Alpha Blondy: "Yes, I've heard that version, but it was a tad bit too vulgar for my taste. The Twee Belgen wanted to spice up the song a bit. I could appreciate the humorist approach of their version, but the end result was a bit risqué."