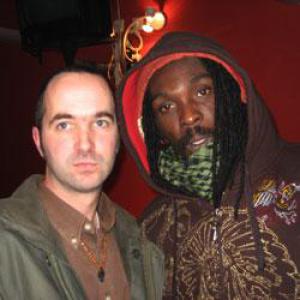 Singjay Anthony B is one of the few artists of his generation who manages to turn out consistently qualitative tracks year after year and also manages to stand his ground on a live stage at the same time. After his performance at Vooruit in Ghent we discussed his past, present and future.
Anthony, I know you hail from the parish of Trelawny in Jamaica, a parish that's well-known for its Maroon history. Did that heritage have any impact on you growing up?
Anthony B: "Yes, it made us rebellious, because that was the spirit we saw around us. In Jamaica we've got a number of national heroes, but our hero, Cudjoe, who also hailed from Trelawny, is still not recognised as such because he was so rebellious. He fought for independence from English colonial rule and that's why the queen and the establishment do not want to recognise him. Apart from that Trelawny is a very peaceful place. The Maroons still uphold their lifestyle with lots of elements derived from old African traditions. We are strong-headed strong-hearted people. Where society is concerned we know we have to fight double to achieve what we want."
When one reads an interview with Anthony B, a question that seems to return very often is why you don't wear your turban all the time. As a Rastaman, do you think you should even be asked that question?
Anthony B: "No, I don't think it's a valid question, but reality is that a lot of people don't overstand the concept of the turban. It's like a chef who should not be in his kitchen with his hair sticking out, because a hair could get into the food and people might not consider him a good chef anymore. Washing your hands before prayer is a similar thing. We boboshanti cover our hair. Prince Emmanuel said it's best to wear the turban 24/7, because you might want to pray at any time, but I'm an entertainer, a reggae artist and not a priest. I see myself more as an ambassador of the boboshanti faith, going out there and spreading the message wherever and whenever needed. And if that means giving the hair a break once in a while, so be it."
As an artist, you've always focused on your album releases, but realities being what they are, album sales have dwindled over the past years. Do you still see a future for the album as a physical music medium, or are we heading for radical changes in the music industry for the near future?
Anthony B: "No, I don't think things are going to change radically. The thing with capitalism is that in times of depression, the lower class people can capitalize because they've got nothing to lose anyway. Personally, I've just started my own record label, Born Fire Music. I want to start producing my own albums from start to finish. Ok, I might not have the promotion and distribution channels the major labels have, but on the other hand the revenue from your own product is higher because you can cut out all the middle men. That way you can invest in producing a higher class product that will sell anyway. From all these albums I did for Greensleeves or VP I hardly saw any royalties. There's a lot of thievery and hustling in the music business. I think as a collector's item, albums still have a future. Almost all music is downloadable from the internet these days, but real music lovers still like to own a physical copy and I truly believe reggae music has a loyal following. The math is simple; if you go on the internet and check how many record stores there are selling reggae, if each of those just buy one copy of your album, you already have a sale number that runs in the thousands! Yet you never hear a reggae record go gold or platinum... (laughs) something just does not add up. The recording industry is hiding its real revenue from the artists and from the government."
At the beginning of your career you were part of the Star Trail family of Richard 'Bello' Bell. How do you look back on that period and what has Bello meant in your career path?
Anthony B: "He was like a father figure, a cornerstone; he helped to lay the foundation. He's a great producer, but in life you meet people who you pledge your soul to, as a son, and then you notice how cunning some of them are. I was with Star Trail for over ten years and I never received a publishing check until I joined the Music Publishing Society in 2003! At that moment elder artists were telling me: "Anthony, watch what you are doing, because this is your retirement money!" Meanwhile, Richard was telling us there was no pension in music, meaning that if I didn't save up my money my kids were going to grow up and get nothing! I am the writer of my songs, so I should get a just cut for that. The only thing I asked for was 50%, but Bello didn't want to hear nothing, so although I respect him still, that really disappointed me."
You seem to have found a fresh vibration with Frenchie, 'Rise Up' is already the fourth album you recorded together. Him being from France, how did you guys hook up originally?
Anthony B: "The first time Frenchie sent me some riddims, I immediately recognised in him a guy who I could work with to do my roots productions. He's a kind of person that, no matter what's happening, will remain focused on what he is doing. He's also very straight in business."
There's about two or three tunes on 'Rise Up' voiced over Black Uhuru riddims.
Anthony B: "Yeah, Sly & Robbie... I've been a fan of their sound from back in the Black Uhuru days. It's definitely something I want to tap in more in the future. For the generation that is growing up now, that sound is fresh all over again and I believe that is what the youths are looking for these days, be it in music or fashion or whatever: things that are old but have retained their freshness in some way."
The absolute killer track on the album is, 'Enter The Kingdom Of Zion', a duet with Horace Andy. Does a song like that start out as a duet straight from the start, or is that something that happens spontaneously afterwards?
Anthony B: "If you know Horace Andy, you will know that he never used to let his dreads grow in the past. He told me all of that changed when he heard a tune of mine called 'Nazarene Vow'. Now a while ago we were both doing a show in Portugal and we were staying at the same hotel. Horace heard me sing part of the song and joined in improvising. Horace really liked the track and from there things kind of happened."
One of your big examples in life is Marcus Garvey and one of the key points of his philosophy was repatriation, the return to Africa.
Anthony B: "Repatriation is a must, spiritually and physically! But first we need a change in mentality. Africa needs open-minded leaders willing to welcome foreign black people, because that's how they see us. Only when they can stop seeing us like that and start considering us as real brothers and sisters, can we start thinking of actual repatriation. If you go to Africa as a Rastafarian now, you'll be followed by the police, because they will immediately suspect you of wanting to stay in the country. Physically speaking, going back to Africa isn't that easy either; there are a lot of diseases still rampant there that we in the West have already eradicated a long time ago. When we go on tour to Senegal or Gambia there's always a few of us coming back with malaria. So when we decide to repatriate we have to be ready to invest in Africa both financially and with the necessary manpower and knowledge. In practical terms at this moment there are no direct flights between Jamaica and any African country. That means that even if you want to repatriate you still have to pass through Europe or the United States. We already have a hard time getting a visa for the Cayman Islands, which are just 90 miles away, so go figure. Of course we sing a lot of songs about repatriation, but these are songs of hope, expressing a longing that exists in the hearts of many people."