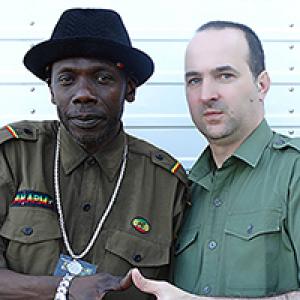 Anthony the earliest roots of what would become your musical career were sown at a place called Biah's yard. What can you tell us about that location?
Anthony Johnson: "Well, let me tell you now… I was born in the days that ska still ruled Jamaica, in James Street, Trenchtown. There you had this man named Biah, an Indian fellow who came to Jamaica from Cuba, and his yard at 15 James Street was the place where nuff dances would be held. Sir Percy, Emperor Faith, Stereograph also known as King Sturgav, King Tubby's, you name it, they all came and played there! I grew up with Alton Ellis, whose family lived on White Street. Trench Town was like a hub for budding artists in those days and it still is to this day! So that's where it all started for me."
Growing up amongst all that musical talent, at what point did you discover your own?
Anthony Johnson: "Growing up in Trenchtown you had but a certain number of roads you could take in life, become a bad boy or a rudeboy as they call it in Jamaica, pursue a career in the army, or follow a musical path. I just learned the trade by copying the well-known artists that were all around me; people like Alton Ellis, John Holt, Dennis Brown and so on. I guess I must have been 12 or 13 years old, when I learned where places like Studio One, Dynamics, Federal, Channel One and Randy's were located and started going from studio to studio to try my luck. Doing that day in day out made you cross paths with even more people. That's how I got to know people like Tapper Zukie, Slim Smith, Big Youth and U Roy. Apart from that I also listened to a lot of American rhythm & blues and soul music, things like The Drifters, The Temptations, Four Tops, and of course the great Curtis Mayfield, but also female voices like Dionne Warwick and Gladys Knight. Man, at that time I even listened to Tom Jones… anything to learn the trade! (laughs) I think that's also why I grew inti becoming the versatile singer I am today."
Before you made a name for yourself as a solo artist you were still a member of a band called Mystic I for a while.
Anthony Johnson: "Yeah, that was a vocal trio consisting of myself Les Clarke and Balvin Fials. Les passed away a few years ago and I don't really know what became of Balvin. Basically Les was the lead vocalist of the band with Balvin and me doing the harmonies, but I did sing lead on a tune called 'Life Is Not Easy', which we recorded for Linval Thompson. Linval released that material on an album called 'Mysterious', released in the UK without our knowledge and under the name Mystic Eyes!"
One song that really survived from that era was a tune you guys recorded for Lee Perry's Black Art label called 'Forward With Jah Orthodox'.
Anthony Johnson: "That was a tune that had Les on lead vocals and was released under the name The Mystic, but the trouble with Les was he liked to stay indoors and wasn't as much of a mover as I was. I used to hang out at all the dances and grabbing the mic from time to time for sound systems like Stereograph, Killamanjaro, Black Scorpio and Jammy's is how I slowly started building a name for myself. The first solo tune I recorded was also produced by Linval Thompson and was called 'Africa', released back in 1979."
I believe there was even an earlier tune you did for Bunny Lee, which was sadly never released?
Anthony Johnson: "True, that one was called 'Free Black Man'. Bunny gave me a cut of the tune, but somehow I never got around to releasing it myself. I really should do that one of these days, because it's a good song you know! I voiced it over the You Don't Need Me riddim, known from the big hit by Melodians."
Would you agree that the stars in your career really aligned when you met up with Jah Thomas?
Anthony Johnson: "I met Jah Thomas thanks to a friend of mine from the UK called Rusty. He told Jah Thomas he had to listen to this youth who sounded somewhat like Dennis Brown, and when Thomas returned to Jamaica he looked me up and, since I supposedly sounded like Dennis Brown anyway, made me voice a tune called 'Loving A Woman' over the riddim of Brown's 'Sitting And Watching'. After that tunes like 'She Haffi Come A Me' and 'Strictly Rub A Dub' followed, and then one day he told me to write something about the rising gun violence in Jamaica, and that's how 'Gunshot' came about. I recorded it at Channel One with the Roots Radics backing me and from the first notes we did, those guys told me I had a surefire hit on my hands. You just have to hear these first words: "Every day is a gunshot, and another one dead drop…" and you're sold! (laughs) It still keeps going strong after all these years you know. Back in 2008 it was still used in the soundtrack of the Roger Donaldson film 'The Bank Job' and it's been sampled over and over again. Even the great Dennis Brown mashed up Sting with a version of 'Gunshot' at one point! A truly magical tune!"
Some artists would find that one hit that keeps following them throughout their career tiresome after a while.
Anthony Johnson: "Well, good music will never die, so I think it's only natural people keep demanding to hear a tune like 'Gunshot', and for an artist that one big hit tune can also mean the difference between financial security and struggle. I just love the way this tune has kept on growing over the years and was passed on from generation to generation. I still thank Jah for that tune every day!"
In the nineteen eighties you moved to the UK. What made you leave your native Jamaica?
Anthony Johnson: "Things had changed in Jamaica! The days of Bob Marley were gone… I'm talking both musically and socially there. You had police brutality, political violence and musically dancehall was taking over from roots music. Before independence, you could walk wherever you wanted and not get into any trouble, but then imported American and Italian western movies started introducing people to gun culture, after that came martial arts movies which were also full of violence and fighting, and then after independence the political parties started setting off the people against one another. It basically changed the whole country. On top of that, as an artist you start touring at one point and you kind of loose the island mentality because you get to experience that there's a whole world out there and not everything is as black or white as you thought it was. I'm talking literally there, because in Jamaica for a lot of people the white man is the devil, but I've got mixed race children myself, so I know that there are just as many white people out there with love in their hearts then there are black bad men roaming the streets! I just followed the path Jah laid out for me and so far I'm very happy with how things have turned out."
Let me end on a spiritual note… You just mentioned Jah there, what has the philosophy of Rastafari added to your life? What does it mean to Anthony Johnson?
Anthony Johnson: "It made me stronger as a person! I used to go to church like so many Jamaicans do, singing along with all the hymns, but when I discovered those early nyahbinghi and roots tunes and His Majesty revealed himself to me, it was as if a whole new world opened itself up to me and I discovered my true home. There's no man like Haile Selassie I, you just have to open your Bible and you will read: "…for I am a great King, saith the LORD of hosts, and my name is dreadful among the heathen." (Malachi 1:14, red.). Rastafari is powerful thing, and it doesn't take long dreadlocks to be a Rasta you know, because it comes in all shapes and forms. To me Rastafari means freedom, love, peace and happiness and not corruption or -ism and schism. Don't point your finger, because who judges is a sinner!"