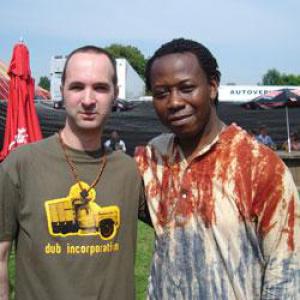 Aurelio, Garifuna culture is still fairly unknown in Europe; can you give us a short introduction?
Aurelio Martinez: "Thanks to the work of Andy Palacio and the decision of UNESCO to acknowledge our cultural patrimony as world heritage, the world is finally becoming aware of the Garifuna. The Umalali project we're presenting here today is just part of a wider strategy to further promote our culture. The history of the Garifuna people starts about two hundred years ago, when a group of descendants of African slaves and Caribbean Indians arrived on the island of San Vicente (or Saint Vincent, today part of the Saint Vincent & The Grenadines islands, red.). The first Garifuna settlement on the Central-American mainland was Punta Gordo in Honduras. From there, they spread over the whole of Central-America; today you can find Garifuna communities in Belize, Guatemala and Nicaragua as well. The Garifuna have a very rich and diverse culture. Our music has rhythms like paranda (oldest and most original form of Garifuna music, acoustic in nature and usually played on Garifuna drums, tortoise shell percussion and acoustic guitar, red.), punta (Garifuna dance music usually performed at big festivities. Not to be confused with punta rock, a genre derived from punta, but much more recent in origin, which also incorporates influences from soca and calypso, red.) and hunguhungu (Garifuna dance, traditionally performed by women, rhythmically moving along to the sound of Garifuna drumming, red.), all ready to be discovered and enjoyed. I'm very excited to have been entrusted with the leadership of this project formerly in the hands of my good friend Andy Palacio."
You're mentioning Andy Palacio there. Unfortunately, he passed away quite suddenly a few months ago. How important a figure was he in Garifuna music?
Aurelio Martinez: "Andy Palacio was one of my best friends. We met when he came to Honduras for the celebrations of the bicentennial of the arrival of the Garifuna in Central-America. He then introduced me to the people of Stonetree Records, the label that has already produced several albums with Garifuna music and that has now fused with Cumbancha and for more than ten years, we worked together on projects like 'Paranda', 'Garifuna Soul', 'Umalali' and 'Wattina'."
You're now more or less considered his successor. Do you feel comfortable in that role?
Aurelio Martinez: "Well, I'm also a member of parliament, representing my region in the Honduran National Parliament. For as long as I can remember, I've been an ambassador of the Garifuna culture, so Andy's job is surely not new to me. Even though at heart I'm still rather a musician than a politician, I fully realize the importance of my job. For the first time in two hundred years we now have a black man in parliament in Honduras. That shows how significant our struggle is; it's not only a matter of promoting our culture, but also a struggle for equal rights and acknowledgement. The Garifuna are a minority group in Honduras as are the Miskito or the Maya in Belize and it's thanks to the growing popularity of our musical culture that we now also have some weight in social and political issues in our country."
What can you tell us about the language you sing in?
Aurelio Martinez: "We speak Garifuna. You have to know that Garifuna culture developed itself totally independent from the other Central-American cultures. Even though most Garifuna are descendants from African brought over to the Caribbean, the Garifuna have never really known slavery conditions. As soon as our ancestors arrived in the Caribbean, they rebelled, escaped and then went in search of a place where they could settle in peace."
On your album 'Garifuna Soul' you mix traditional Garifuna music with elements from other styles. What kind of music do you listen to yourself?
Aurelio Martinez: "I mostly listen to Cuban music and more particularly to the nueva trova artists. I added some elements to the traditional paranda music in order to make into a more rebellious music with a message that can actually make the listener think or ask questions. Through the respect that I've earned within the Garifuna community, I'm now able to spread my music and message on a global scale and try to give Garifuna culture the status it deserves."