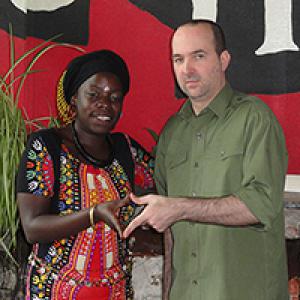 Omolo, you were born in Kenya but moved to Holland age five. Do you remember much of your time in Kenya?
Black Omolo: "I've been going back regularly ever since and my mother founded One Love, a football community, so we keep very much in touch with the local community. But to answer your question, yes I do still have fond memories from my childhood, especially the short time I went to school there."
Was there a particular reason you ended up in The Netherlands?
Black Omolo: "I would have to ask my mother, as she was the one who made that choice! (laughs) One of my mum's friends was already living here, so first she simply came over for a visit, but she liked the country and eventually returned to pick me up in Kenya and move to The Netherlands permanently. Then she found love and the rest as they say is history."
Did you experience what's known as culture shock?
Black Omolo: "Not really, I guess it's just in my nature to easily adapt to new circumstances. Home is where you make it you know. That's not to say that I haven't experienced my share of racism living as a black woman in The Netherlands. It's something I really have great difficulty coming to grips with as the country was built in part with the help of slavery, the exploitation of colonies and the work of migrants. I have a feeling the darker your skin is, the more difficult it is to further yourself in Western society and that's systematic racism. That's why I prefer to work with youths and children, as their mindset can still be changed; the older generation of people is often already set in its ways and opinions and it's very difficult to get them to change their minds."
We now know you as a reggae singer, but your first steps in music were playing the flute.
Black Omolo: "I started developing an interest in music when I came to The Netherlands. My mother and her partner owned a pub called Gasterie De Knip in Wessem (near Roermond, red.). As she didn't have a lot of time to occupy herself with me, I started looking for things to keep busy. The first instrument that I got a hold of was a simple wooden flute. Soon after I started singing in the local church choir and performing in musicals. As I matured I moved on to the guitar, but I have to admit that I haven't touched that instrument for years, so I guess I'd have to start from scratch would I want to pick it up again now. But eventually that's where I'd like to end up."
And then there was Rita Omolo & The Makossa Beauties…
Black Omolo: "That was the first project that gained me some stage experience. I was only twelve or thirteen years old at the time and I still remember one of the first gigs we played was at the Afrika Festival in Delft. We were a whole group of dancers and rappers and we blended African music with hip-hop, r&b, dancehall and reggae. It was a time when I was still trying to find my musical identity and the direction I wanted to head in."
Was there like a pivotal moment in your career when you decided to go for reggae and dub, or was it a gradual evolution?
Black Omolo: "Well, thanks to my mum, I kind of grew up listening to reggae music. In fact the reason I'm called Rita is because I was named after Rita Marley. If I would have been a boy I probably would have been called Bob! (laughs) But apart from all that, age sixteen I moved to Amsterdam and started doing backing vocals for Kenny B. I also started collaborating with Black Marshall. That was my true introduction to reggae music so to speak, and not much later I got involved with a band called Forward. Pretty soon they started trying to convince me to move from doing backing vocals to singing lead. The next project I got involved with was Gideon Ground, which lasted for about seven years, a period in which I was really able to develop my style. We had our own rehearsal space, so we could take all the time we needed to get where we wanted to be."
Back in 2013 you did a tour in East-Africa. Would you say that was an important landmark in your career?
Black Omolo: "Absolutely, because a lot of people in Kenya had also been following me and being able to do something back for them was very gratifying. Compared to Europeans, Africans have a very different mentality and it takes a different approach to lift up and motivate the people over there."
Is reggae very popular in Kenya?
Black Omolo: "Yes, very much so. All the Jamaican artists are going there to perform, so reggae is definitely on the rise. The only shame is Kenyans don't have enough self-pride, which I think is one of the reasons why Kenyan music isn't that well-known in the rest of the world (even though labels like Soundway Records and Strut Records are now trying to catch up, red.). That's one of the messages I'm trying to spread over there. Nothing against Jamaican artists, but we've got a lot of talented Kenyan reggae artists as well, and no one is supporting them. A lot of Kenyans haven't travelled, so their worldview is quite limited, and that's where I differ; I've travelled a lot and if you keep an open mind you can learn a lot. Of course not everyone has the means or opportunities to travel, but then there's still the internet, which, if used intelligently, can be your window to the world. In Africa Kenya is one of the countries with the best and most widespread internet network. It's time to change the mindset over there!"
In 2015 you then ventured to Jamaica. An important trip?
Black Omolo: "What can I say? Of course that was a dream come true. I guess if you're a reggae artist, at one point you'll want to go and visit the country where it all started. Foremost, that trip provided me with a lot of inspiration and it boosted my self-confidence. And of course I shot a nice video for 'More Positivity' when I was over there and recorded a combination with Exile Di Brave ('Breaking Down Barriers', red.)."
And with Warrior King you recorded 'Woman Of Creation'.
Black Omolo: "Yeah, Warrior King has been one of my big inspirations in reggae music. He's a conscious artist with a good heart and if I had to do a duet with someone, he'd definitely be on the top of my list, so I'm very happy I was able to make that become reality."
Being a female reggae musician and African on top of that, what's your take on Rastafarianism?
Black Omolo: "As they say, Rastafari is one big house with many mansions… You have the different branches like Twelve Tribes, Boboshanti and Nyahbinghi, but even on a personal level I think many people have a different, personal, interpretation of Rastafari. As an African I see Rastafari more as a freedom movement. I'm Kenyan and in my country you had the Mau Mau who also grew dreadlocks and were in contact with His Majesty in Ethiopia (Haile Selassie reportedly granted Ethiopian citizenship to 25 Mau Mau fighters who escaped to Ethiopia from Kenya under the leadership of general Stanley Mathenge in the 1950s, red.). It's also about pan-Africanism, like Marcus Garvey preached: trying to bring Africans home and abroad together. The difference between someone like me, born in Africa, and Africans born in the diaspora is that we're much more connected to our history than they are. I'm from the Luo tribe, which is a Nilotic tribe that came down to Kenya from South-Sudan. Above all else Rastafari is something you have to feel and discover for yourself; it's difficult to put into words."
What's your longtime vision for yourself as a person and an artist?
Black Omolo: "Well, in all honesty, in the long-term I'd like to move back to Africa. I'm living here at the moment, but my mind is always over there. I have a son who was born over here, so I want to make sure he gets the best education and the best chances, before I start putting my own wants and needs first. The other concern is financial security, I won't lie about that; fact is, it's just way more difficult to survive in Africa then it is over here."