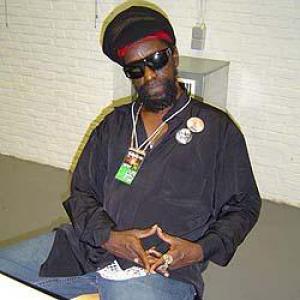 If Michael Rose is the voice of Black Uhuru, then Duckie Simpson is definitely the brains of the operation. In the whole succession of different line-ups Black Uhuru has known over the years, Duckie Simpson has been the one constant. We met up with him in Antwerp and talked about past, present and future.
Duckie, if there has been one constant in the history of Black Uhuru it must have been Duckie Simpson. You have been there from the very beginning. How did the Black Uhuru adventure start out for you?
Duckie Simpson: "We all came from the same neighbourhood. Michael and me grew up together. Black Uhuru started somewhere in the late sixties. There were a lot of changes. Don Carlos was there for a while, but at a certain moment - really before I really realised it had happened - Michael and I got together and started recording and touring."
It was sort of a natural thing then?
Duckie Simpson: "Yeah after two decades... (laughs)"
How big would you say the input of Sly & Robbie was on the whole Black Uhuru history?
Duckie Simpson: "They had a big impact! They were like the producers. 'Chill Out' and 'Sinsemilla' were all their productions. They didn't produce 'Anthem' though, the album that won the Grammy."
Let's talk a bit about that Grammy award. In retrospect was that award a blessing or a curse for Black Uhuru? After the Grammy Michael left and the glory days of Black Uhuru seemed over.
Duckie Simpson: "Actually the group had already split up before the Grammy, about four months beforehand. At that time we were at the peak of our career. Bob Marley had just died and everybody was touting for us to be the next big thing. Michael then decided to leave and everything fell down."
One member that is missing and never can be replaced is Puma (Jones, red.). How do you remember her?
Duckie Simpson: "Puma died of breast cancer. She was an American girl, I met her around 1979. I heard her sing at her house one time and I liked what I heard. From there we hooked up. She played a big part in the group especially sound and image wise. She had a very powerful image and her sound was unusual in the reggae arena."
After all these years you now regrouped with Michael. What was the spark that brought you back together and is the chemistry still there?
Duckie Simpson: "It's a different chemistry because we got older. We're talking about a quarter of a century. We're wiser and more mature. Reggae music has shifted more towards dancehall these days, but we have already done our part. We did some strong recordings. That is our inheritance now, these songs from back then."
About a week ago, the world was witness to the big Live 8 event; an event that was hailed by a lot of people for trying to improve conditions in Africa, but that also got criticized by people who said an event promoting Africa should also feature artists from Africa and music about Africa.
Duckie Simpson: "Like reggae music! (laughs)"
So you agree?
Duckie Simpson: "Definitely! It was just mumbo-jumbo. Nobody was talking about Africa except for the reggae artists. We were talking about this way before Bono and all these guys. Now they will be giving all this aid to those bureaucratic Uncle Tom presidents and prime ministers. That is Africa's main problem: the leaders! Bono did a good job, but I can't understand why they always seem to want to keep out reggae."
I would like to finish off this interview by giving you some names and you can just respond by saying what they represent to you. Let's start with your homeland: Jamaica?
Duckie Simpson: "Originality. Wood and water."
Africa?
Duckie Simpson: "The motherland. The place all Rastafarians focus on, where we would all like to repatriate."
His Imperial Majesty?
Duckie Simpson: "You know that one already; straight up God and King you know. (laughs) Selassie I! Jah!"