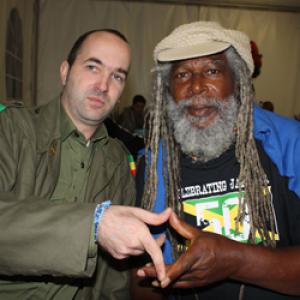 Bob, one of the earlier passages in your career was when you joined The Paragons as a founding member in the early nineteen sixties, but how did your career in music really start?
Bob Andy: "I already sang together with (Garth, red.) Tyrone 'Don' Evans before we decided to expand the band into what would become The Paragons. Before we eventually became The Paragons, we performed as The Binders for a while (with Errol Walker and Henry Buckley, red.). At one point we were introduced to John Holt and he also joined the band (The original line-up of The Paragons consisted of Bob Andy, Tyrone Evans, Junior Menz and Leroy Stamp, red.)."
If I were to call you one of the seminal artists at Studio 1, would you agree?
Bob Andy: "That is undeniably so, yes. I like that word you used there; seminal is a good way to describe it. I like to think I influenced a lot of what happened there. I was a bit of a jack-of-all-trades; I auditioned new talents, sang harmonies during recordings, wrote song lyrics and so on. The most influential artist at Studio 1 was without any doubt Jackie Mittoo and then there was Leroy Sibbles who took care of a lot of the arrangements as well, but at the same time I also like to pay tribute to the unsung heroes of Studio 1, people like Richard Ace who took over from Jackie Mittoo (Richard 'Jah' Ace, was already at Studio 1 before Jackie Mittoo arrived there and took over again when he left for Canada at the end of the nineteen sixties, red.) and Roy Richards (aka. the 'Jamaican Stevie Wonder', was a multi-talented artist who, despite being blind, not only played the harmonica but was an accomplished singer and drummer as well, red.) for example."
It's nearly impossible to say Bob Andy and not mention Marcia Griffiths in the same sentence. How did that wonderful partnership start?
Bob Andy: "After I had left The Paragons to work at Studio 1, Marcia was already working there. By the time I arrived she'd already done duets with artists Tony Gregory and a young Bob Marley. We first started out doing harmonies together for other artists, just to earn some extra cash, but it quickly became clear there was some kind of chemistry between us, so I decided to write some songs that would really suit her voice and that's how that whole thing got started. Our careers have had a lot of similarities; she built a solo career for herself as did I, she was part of female trio the I-Threes and I was a member of The Paragons."
When I interviewed Marcia a couple of years back, I compared the two of you to Sonny & Cher in the USA. Can you find yourself in that comparison?
Bob Andy: "I don't know, I think I would be more inclined to go for Marvin Gaye & Tammy Tyrell! (laughs) I don't want to take anything away from Sonny & Cher, they were great artists in their own right, but musically speaking we were closer to the sound of Tammy and Marvin, Motown you know."
The Bob and Marcia tune everyone knows, even non reggae lovers, is of course 'Young, Gifted & Black', originally done by Nina Simone. Who came up with the idea to cover it?
Bob Andy: "That was Harry J; he had found the song somewhere, built a riddim and was looking for someone to sing it. He came to see me, I invited Marcia and the rest is history!"
Is it fair to say that song changed your life?
Bob Andy: "Well, musically speaking it certainly added to my consciousness. As a young Rastafarian I was already deeply interested in Afro-American history and had read the works of people like Stokely Carmichael, Eldridge Cleaver, H. Rap Brown and Malcolm X, so I was already familiar with the rhetoric of the song."
At the end of the nineteen seventies, beginning of the nineteen eighties, you starred in a couple of roles in feature films. How serious were you about establishing yourself as an actor?
Bob Andy: "At one point I had become a little bit disillusioned with the music business. I never lost the desire to write and sing, but my appetite for the business side of things was just not there. In that period I had also gotten obsessed with playing tennis and to keep busy between my tennis lessons I had enrolled myself in a drama class. That class resulted in me playing a role in a play and then another and all of a sudden I was asked to audition for this movie and found myself surrounded by a lot more accomplished actors. It was never career ambition that drove me into the movie business, but I always liked the magic of the cinema and found acting to be something very spontaneous."
I recently saw you in some footage from a documentary about the Inna De Yard project. What's your involvement with that?
Bob Andy: "It's pretty much self-explanatory. Chinna's yard (Earl 'Chinna' Smith, red.) is like an oasis in Kingston; if you want to learn how to play music or just feel like jamming, that's the place to be! It's a very fertile and cultural place to hang out. I was just there whilst they were filming the documentary and I'm glad to be part of it as I endorse the project fully."
In 2007 the Jamaican government decided to award you the Order of Distinction, but the list of awards you've received over the years is very long. Amongst all of them, is there one that somehow has had a special meaning for you?
Bob Andy: "I owe my knowledge of self and the appreciation as a songwriter and an artist to the recognition and the endorsement of the Jamaican people, so I always accept my awards in the name of the Jamaican people. They've been with me from day one and have stood by my side for over fifty years now, so they are really all the award I need!"
August 6th 2012 marks the 50th anniversary of the independence of Jamaica. What does that anniversary mean to you?
Bob Andy: "We have come a long way these past fifty years, but based on practical observations, I have to say I have a lot of criticism as well. That being said, as long as you don't have a remedy yourself, it's better not to criticize others. I just want to wish my country a happy earthstrong and that especially goes out to the Jamaican people. We should definitely celebrate, but at the same time we can't forget our Jamaica is carrying a huge international debt and as a country you can never borrow yourself out of debt. Jamaicans have proved most successful in fields like arts and sports, which are largely out of the hands of the political administration; that fact alone says a lot about the state of our nation. I'm very proud to be a Jamaican, but but but..."