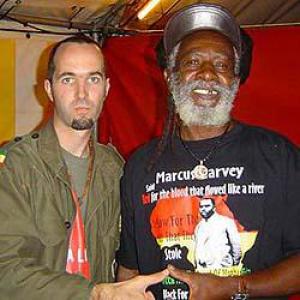 Winston Rodney a.k.a. Burning Spear is a living legend in reggae music and hardly needs any introduction. Interviewing an iconic figure like Rodney isn't always easy. We took part in a collective "press moment" at the Reggae Sundance festival and at least managed to sneak in a couple of questions.
Blessings Spear, it's a great privilege to have you here again. Apparently your roots in music, the way you got started, had something to do with a certain Robert Nesta Marley. Could you tell us that story?
Burning Spear: "Well, that story has been told many times, but I don't mind telling it one more time or even many more times. In the year 1969 I met Bob in the parish of St. Ann and it was he who told me to check out Studio 1. I did and from that time until now, the Spear has been burning! I think Bob did a good thing there, telling me, and I think I did a good thing listening to him and actually going to check out Studio 1. The Spear just keeps getting hotter and hotter. I want the people to know about my newest album, called 'Our Music', being released on the Burning Spear label of course!"
Your name was also the alias of the late great Yomo Kenyatta, Kenyan freedom fighter. How did you come by it?
Burning Spear: "I got told about Yomo Kenyatta and the Burning Spear name by an elder. Seen that Yomo Kenyatta is an African descendant and I am an African descendant, I thought it would be an appropriate name. The elder who told me about him knew the kind of lyrics I wrote and he also thought it would make an appropriate name."
In July the worldwide Live 8 event was held, supposedly for the benefit of Africa but criticized by people who said an event about Africa should feature artists from Africa, African music and songs about Africa. Roots reggae artists wouldn't have been misplaced there either.
Burning Spear: "(laughs) Yeah, I heard about it. Sometimes when people are setting up things like this they choose only the people they want to be on it to be there, and that's not necessarily the right people! People, who know about reggae music and about the struggle of Africa, are the right and able people to speak; so critics are right when they say they should have been there. You should have artists who really believe in Africa and who are ready to stand up for the people in Africa."
The riddim of your song 'Columbus' was made hugely popular again not too long ago, did that recognition feel good?
Burning Spear: "Of course it made me feel good! Anything based on Burning Spear, regardless of who covers it, makes me feel good."
Something very peculiar for a Burning Spear concert is the fact that you are always providing a central space for your percussion.
Burning Spear: "(laughs) Yes, it's very important. The sound of the percussion stands out in music all the time. I've been playing a lot of percussion over the last years and I enjoy it, I love it."