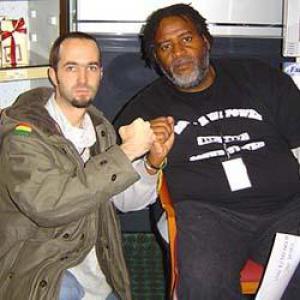 Somewhere in the latter part of the 1970s, Dean Fraser collaborated with Bob Marley on 'Survival' and since then he has managed to establish himself as one of the most productive musicians in reggae music. His sax can be heard in countless tunes.
Dean, you've been at it for so long already that it's hard for people to remember your roots. Could you tell us how you got started in the music business?
Dean Fraser: "I started to play in what you call a top ten band. We played dance music and it was something like a hotel band. So we used to play hotels and we used to do weekend dances for private functions or private clubs. The band was called The Sonny Bradshaw Seven, a very popular band in Jamaica at that time."
What time are we talking about then?
Dean Fraser: "That was 1972. It was quite an experience and we played a lot of good arrangements because our band leader came from a big-band, an old-time jazz band. We used to show of and do a lot of special arrangements. So that's how I started, doing a lot of top ten music."
And what was the first recording you were featured on?
Dean Fraser: "There were a lot of "first recordings". The first time I ever went into a studio was with that same band to do an album for what was known as a cabaret act at the time. This guy was working the different hotels in Jamaica and he wanted an album to sell after his show. It consisted only of cover songs. The next time I went into a studio was at Channel One, where I recorded with Revolutionaires: Sly and Robbie, Bobby Ellis, Vin Gordon, Herman Marquis etc. I played on a song called 'Death In The Arena'. I also remember going into the studio with Boris Gardiner to do a song called 'Every Nigger Is A Star' which he had written for a movie (by the same title, red.). After that I started recording at Joe Gibbs' studio to do the early Dennis Brown and Culture stuff. It all started there between '78 and '79."
There is a trend in Jamaica nowadays where everybody seems to want to become a singer rather than learning to play an instrument. As an active Jamaican music legend, do you see a role there for yourself to pass on your skills?
Dean Fraser: "It might seem as if we don't have a lot of talented musicians coming out of Jamaica anymore, but we still do. One of the main institutions for schooling young musicians, the Alpha Boys School, is still there and presenting us with talented youngsters. I myself am always there for anyone who wants to learn. I don't want to set up a teaching institution or something but I am willing to teach anyone who wants to learn."
Who were your influences when you started out as a saxophonist?
Dean Fraser: "When I started I had the chance to look up to people like Tommy McCook, Ronald Alphonso, Cedric Brooks, Glen DaCosta of course and also my teacher (Babe O'Brian, red.), who was a top saxophonist. I had the privilege to see and hear my peers before starting to listen to foreign horn players and it's really these guys that influenced me."
You are featured on so many reggae albums - some even say you're on 99% of all reggae albums - so, in this vastness of music, are there any albums that have left a lasting imprint in your memory?
Dean Fraser: "The most fun album for me was 'Survival' (Bob Marley & The Wailers, red.). The only other album that could top that one or at least come close to it was 'Mama Africa' (Peter Tosh red.). The solo I had to play on 'Wake Up And Live' for Bob was one of the highpoints in my career even though I was still very young at that time. And then, years later, to do 'Mama Africa' for Peter Tosh, where I was asked to do about three different solos on a number of songs like 'Where You Gonna Run' for example. Of course there is a third album I must mention and that is Black Uhuru's 'Anthem' which won the first reggae Grammy Award."
Playing on all these albums, one after another, touring with Luciano, where do you keep finding the energy? What's your big drive?
Dean Fraser: "I think the music really needs to be out there and I think I have to give some direction to some of the youths who need it. It's my duty to hang around and see that it happens that way until a number of them take over that work. I'm basically the link between the old and the new."
Are there any goals that you still want to fulfil? Any things that you are still aspiring for, that you haven't done yet?
Dean Fraser: "It's music you know and in music there's always a place for another high. I think we still have a lot to do. Reggae as a music can go much further. I think it's time we start to do stadiums you know. (laughs)"
You will be playing southern Africa next in the tour. Is that a special place for you to be performing?
Dean Fraser: "It will be special for me because I have never been to the southern part of Africa. One of the main reasons is because the music of southern Africa is among my favourites. I grew up on Hugh Masekela and Ladysmith Black Mambazo and I've always wanted to go to the place where this music came from, so I'm really looking forward to go there and catch a feel and a vibe of how things are."
To finish off I would like to give you a couple of names and you just say what they mean to you. The first one is: Bob Marley?
Dean Fraser: "Bob Marley means everything. The king, the organiser and the one we should always check out."
Luciano?
Dean Fraser: "Most of us would say 'The Messenger'. I think he's the person to lead us in the direction that we are supposed to follow right now."
Jamaica?
Dean Fraser: "Jamaica is the land that I think the world is looking at. We are always under the microscope of the world. For some reason we create and send out a vibe that you can't find anywhere else."
And as a last one: Africa?
Dean Fraser: "Work, lots of work. As black people we should check out Africa a lot more. We need to focus on things happening there, things that a lot of us can't even imagine and we have to go over there and see these things for ourselves!"