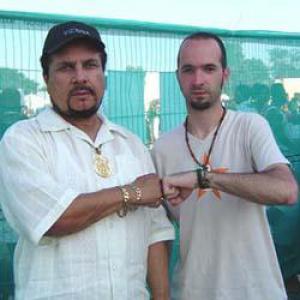 Dennis, when you started out there was a trinity of deejays in Jamaica: you had U Roy, there was Big Youth and there was Dennis Alcapone. Was there much rivalry amongst you three? Were you opponents in the music game?
Dennis Alcapone: "No, we weren't opponents really. When my career really took off it was just me and U Roy. Then you had people like I Roy and Prince Jazzbo, Big Youth came in and Scotty and so on."
Together with U Roy you were seen as one of the pioneers of the deejay style, but you must have drawn your inspiration from somewhere too. Who were your inspirations?
Dennis Alcapone: "I used to look up to Sir Coxsone (Dodd, red.) from Studio 1. He used to have a sound system called Downbeat and there was Duke Reid with his Trojan Sound. Those were the sounds I used to listen to in the early stages. King Edward's Giant Sound too. People like King Stitt, Sir Lord Comic and Count Machuki were the deejays that were around at that time."
As a deejay you always have to voice over an existing song or the dub version of it. Can you deejay over just any tune, or do you have to seek them out?
Dennis Alcapone: "You can do it over just about any tune, but you just feel more comfortable with some tunes than with others. I'm especially comfortable with rocksteady riddims."
You just mentioned Studio 1. How do you remember Coxsone? How do you remember working with him?
Dennis Alcapone: "Coxsone was alright. He didn't like to part with his cash though! The studios of Coxsone and Duke Reid pretty much can be considered as the universities of reggae in Jamaica! Those two studios were the trendsetters. They always had the best riddims."
We have to mention your name. I talked with Dillinger a while back and he told me that when he started out in the business, his nickname used to be 'Alcapone Jr.', so I'm just dying to hear how 'Alcapone Sr.' got his name.
Dennis Alcapone: "Dillinger was one of my apprentices. I brought him along to play on the sound systems and passed him the microphone once in a while. My name I got from watching a film one night featuring Rod Steiger. The film was called "Al Capone". I started imitating Al Capone when the film was finished and before I knew it I was stuck with the name."
From the time when you started out the art of deejaying has changed a lot. These days the in-thing is more what is called singjaying. What's your view on that evolution?
Dennis Alcapone: "I really started that singjay style you know! I am a singjay. What really happened is evolution. The music changed and the deejays changed. When I started it was still the era of ska and rocksteady, then Big Youth came in with the drum and bass sound and after a while, when the deejays started to voice over dancehall riddims, it was the raggamuffin thing. In each era you had a new set of deejays."
Even so, it seems that there's a returning and growing respect these days for the elders, the founders of Jamaican music. Do you feel that too?
Dennis Alcapone: "Sometimes yes, but most of these upcoming artists don't notice anything but themselves really. They just think it was all there waiting for them to arrive and they don't realise that someone planted the seed for them to reap."
You've been living in London now for quite some years; do you still visit Jamaica often?
Dennis Alcapone: "Yes, I was there for Coxsone's funeral last year and after that went back for a family reunion and got caught up in the whole hurricane Ivan disaster. Jamaica is my home. I live in London, but Jamaica is still my home. That's where I'm from. It's just that sometimes, because of the violence and all that, it's better to be in a place where you don't have to look over your shoulder the whole time."
Apparently getting away from violence seems more and more difficult these days. We're just a couple of days after the big terrorist attacks here in London. As a Londoner how did that effect you, what did it make you feel?
Dennis Alcapone: "I just think that there are a lot of mad people in the world at the moment. There's a lot of evil spirits around influencing the young generation and leading them down the wrong path. There are a lot of things going on which are hard to fully understand. These things are not natural! Those people talk about God, but God is love! God doesn't tell you to go out and kill people. If you are dealing with God, you have to deal with love. How then can you go out and blow up people? God created those people too! It's just a lot of madness all over the world. To be honest with you I think we are now living in the time mentioned in Revelations. A lot of things are being revealed to us in these days. Unfortunately we seem to be heading in the wrong direction."
Nuff respect and thank you for this interview!
Dennis Alcapone: "No problem! Just keep on writing about the music! Write about the "positiveness" of music. There's a lot of "positiveness" out there. Don't watch and copy the madness you see in the world today. You just have to live your life, be good, do the best you can and God will guide you through. He's the greatest!"