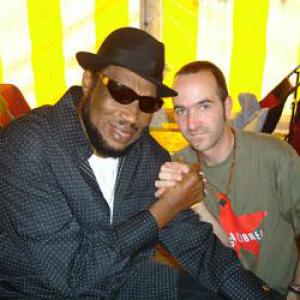 Derrick - or should I say "Your Majesty", because you're known as 'The King of Ska' - it's a great honour to have you here.
Derrick Morgan: "(laughs) Thank you very much! That's absolutely right!"
How did you get that title? At what point did the people start addressing you as 'The King of Ska'?
Derrick Morgan: "It started in 1998; at a big concert in Miami, Florida, they decided to crown me 'The King of Ska'. I had just received a Reggae Hall of Fame award and right after that they crowned me."
Apparently you started out as a Little Richard impersonator.
Derrick Morgan: "Oh yes, that's true. I used to love Little Richard's songs. I liked how he shouted and moved on stage, so when there was a singing contest, I decided to learn two of his songs and enter. It worked because I came first and it started my career."
Little Richard is a rock 'n-roll artist, so when did ska music start to play an important role in your career?
Derrick Morgan: "Ska entered my career in 1959, when I started working with Duke Reid at his Treasure Isle studio. At first it wasn't known as ska and we just gave the tunes a name. We just made rhythm & blues songs like 'Lover Boy' for example, but after a while the musicians started experimenting with changing the tempo and we called that rhythm ska."
Ska is still as popular today as it ever was, what do you think the secret of that music is?
Derrick Morgan: "I really don't know! Every time you hear ska, you immediately start to feel like dancing. It's in the tempo. I don't know what it is but it just makes the crowd go wild."
What's your opinion on The High Notes, the Dutch band accompanying you on stage?
Derrick Morgan: "I feel really good in their company, but there are a lot of European bands now that play some great ska music. As I said, The High Notes are great, but there's also Soulfood International from Germany or Dr. Ring Ding and his band. These bands really help us Jamaican artists out, so we can go out there and play on stage again. It's really important for us old folks, so we can at least put some food on the table!"
We know you as 'The King of Ska' and some other artists from your era, people like The Skatalites, Alton Ellis or Ken Boothe, are also still going strong, but are there ska legends we might have forgotten about here in the West; people that used to be big in their time?
Derrick Morgan: "Oh yes! You had Eric 'Monty' Morris (original vocalist for The Skatalites, red.), who was a great ska singer and you had Theophilus Beckford (immortalized as 'Easy Snappin'', a nickname given to him after the epochal song he composed in the late '50s. This groundbreaking hit has resonated throughout reggae, with many critics considering it to be the first quintessentially Jamaican pop song. However, Beckford failed to capitalize on the song's success, both monetarily and musically; he never scored another major hit and died still struggling to collect his due, red.) who just passed away. Then there's Stranger Cole (born Wilburn Theodore Cole in 1945 in Kingston, Jamaica, receiving the nickname 'Stranger' because he resembled no one else in his family. Cole began his recording career with producer Duke Reid, scoring a hit with his 1962 debut, 'Rough & Tough', a full-tilt ska number with a wild harmonica solo, red.) who's still going strong. There's too many to mention really. Most of them only had one hit and that's what killed them!"
In the sixties your rivalry with Prince Buster took legendary proportions. Now, so many years later, how do you look back on that period?
Derrick Morgan: "It was great! It kept me and Prince Buster going you know. Prince Buster came up with the idea to make a song about me called 'Black Head China Man' and I retaliated with a tune called 'Blazing Fire'. It was a musical war. After a while our fans also started to get involved on a physical level. We asked them to stop by shaking hands and hugging in public. The youngsters are doing it too now, but sometimes they take it too far and start fighting with each other."
Is what's happening in the dancehall scene today just a new version of the same old thing?
Derrick Morgan: "No, it's not the same thing! It's much more serious. When Prince and I were doing it, it was a musical war, but they are making it into a physical thing and that's no good!"
When you started out, there were two major producers on the island. You already mentioned Duke Reid's Treasure Isle and then of course there was Coxsone Dodd's Studio 1.
Derrick Morgan: "Furthermore you had Little Wonder's (L. S. 'Little Wonder' Smith, red.) Hi-Lite and Berverley's (run by the brothers Leslie, Cecil and Fats Kong, red.). To tell you the truth in those days you had so many producers that things could hardly go wrong for an aspiring artist."
You recorded both for Coxsone and Duke Reid. What was the main difference between those two?
Derrick Morgan: "I never really loved Coxsone, Duke was my man! They had a different style. Duke Reid was the one who started me in music and from there I moved on to Prince Buster and later still to Leslie Kong at Beverley's."
Duke Reid always carried a gun. That never scared you?
Derrick Morgan: "No! He wasn't a violent man. He was just an ex-policeman, only teasing us with his gun, but not really meaning anything by it."
In the last few years, your daughter, Queen Ifrica (born Ventrice Morgan, red.), has also risen to fame. Was that a proud moment for you?
Derrick Morgan: "It made me a very very proud father. I can't tell you how proud I am of her. She's doing very well and I love that. In Jamaica we already performed together and in the future we might even record something together."