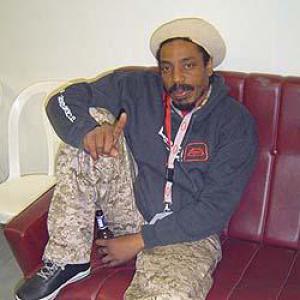 Sixteen, welcome in Belgium. Tonight you are here at Feest In Het Park in Oudenaarde together with Zion Train, but I want to talk to you about Dreadzone and of course about your own career. Did you start out as a lot of Jamaican singers, in church; is that where you picked up music, or is your story different?
Earl Sixteen: "A little bit different. I grew up in an area of Jamaica, Kingston 11, that was full of artists. I grew up around people like Dennis Brown, Roman 'Tinga' Stewart, Tony Tuff and Sugar Minott. I was born in Kingston, but I grew up in the country. I used to go to church a lot too, but I listened to a lot of music with my father. He was a musician and used to make his own guitars. With stuff like fishing lines and bamboo, he could craft a beautiful instrument. I started out by listening to quadrille music. That type of music was a bit of a mix between jazz and rock and we called it ska. Musically I started out by following Dennis Brown around, singing at bars and clubs. When I say that, I mean singing outside at bars and clubs and at bus stations as well. It was just busking me and Dennis used to do in those days; just singing for the pennies that people threw in our hats. We were still very young and couldn't go in the pubs yet, so we sang outside and basically earned our supper."
One of your first bigger musical experiences was when you joined Boris Gardiner's band.
Earl Sixteen: "I was at school with people like Franklin Well, 'Bubbler' Moore - who is working with Sly & Robbie now - and Winston McAnuff. We had a group called the Flaming Phonics and used to do shows at school concerts and during the summer holidays. That eventually led to some bigger shows and at one of these events I met Boris Gardiner. Coincidence wanted that just at that time Boris was desperately looking for a singer, because Tinga Stewart, the lead singer of his band had just quit after winning a talent contest. For me it was very interesting because these guys were not only into reggae, but in all kinds of music and they were writing and reading music as well. Those were things I had never seen before. Boris was involved in writing film music, soundtracks, a lot too. It was also via Boris that I got involved with Lee Perry. Lee heard about the things Boris was doing and wanted to work with him. When he went up to meet Lee, Boris asked me to accompany him, being a ghetto youth and all that."
I got the chance to meet Scratch just recently. You worked with him. Between genial and crazy, where is he for you?
Earl Sixteen: "(laughs) Lee Perry is always going to be a person that is on the edge. He's on the edge of technology, he's on the edge of madness, and he's on the edge of coolness. He's just one of those timeless characters. Bob Marley saw him as a mentor. Lee Perry changed the whole scene. He changed the whole analogue recording method; he could make an 8 track recording sound like a 16 track and so on. That was something unique. Guys like Coxsone Dodd from Studio 1 and King Tubby had that talent too, but Scratch was really at the front of it all. Personally I look back at my collaborations with him as a very positive experience. Fortunately he's still around to do his thing!"
You just mentioned Coxsone Dodd there. The great producer of Studio 1 passed away last year. When I talked to Dennis Alcapone he described him as follows: "Coxsone was alright. He didn't like to part with his cash though!" How do you remember him?
Earl Sixteen: "Well you see, people like Coxsone Dodd, Bunny Lee and Duke Reid always had to take a certain gamble. They were never sure in advance their product was going to sell. I still see Coxsone as the headmaster in the school of reggae. People like him, Jimmy Cliff and Prince Buster played a big part in getting the music from its jukebox status to getting it on the radio. In the beginning reggae did not get any airplay on the radio; you had to play it on a jukebox or go see a soundsystem show. On top of that you have to realise that there were so many artists that wanted to make a record. You simply could not pay all of them the same amount of money. So, a lot of people will have different things to say about the producers of that era, but that time was a very struggling time for reggae in Jamaica. Most artists in those days didn't even know about copyrights. You just knew that when you voiced a tune you got 50 or 100 dollars and if your tune made it on the radio that was just a bonus. So, big respect to the man who really got the ball rolling!"
One of your first big hits was the song 'Malcolm X'. I've been listening to reggae for years now and Malcolm X is not really a subject that pops up often. How did that song originate and when or where did you hear about Malcolm X?
Earl Sixteen: "(laughs) To tell you the truth, I have no idea! At school I used to hang out with Winston McAnuff. He's a very educated guy, always got straight A's and stuff. At that time, we're talking somewhere in the early seventies, everybody was singing songs about Nelson Mandela, to get him free from prison, or songs about apartheid. Winston decided to write about something else, but without really knowing too much about things like the Nation of Islam. We went to Joe Gibbs with the tune; he heard the song, liked it and we got to record it. After I had voiced the tune, Joe Gibbs and Errol Thompson said: "You know, we like the tune, but maybe we should let someone else sing it.", and they got Dennis Brown to sing it! (laughs) Dennis made the song into a big hit and put it on his 'Visions' album. As Dennis was already one of the biggest names in reggae by that time, I was really honoured with him covering the song. I still released a 7" version of the song for Derrick Harriot, but I think the version people know best is the Dennis Brown version."
At one point Rastafari found you. Often when I speak to reggae artists and the subject of Rastafari comes up, they tell me stories of how they got in trouble with their families when they decided to become Rastafarian. How was that in your case?
Earl Sixteen: "I never really had that problem; my problem was deeper than that. When I was working with Boris Gardner, his band was considered to be one of the top cabaret acts in Jamaica. They didn't just play reggae, but all kinds of music. We used to play at things like the police ball or for election campaigns; we did some strange stuff! I stayed with Boris often and next to his house were the headquarters of the Twelve Tribes of Israel. I went to a dance there one night, featuring Bunny Wailer on the Twelve Tribes soundsystem. When I turned up to play with Boris the next day, looking all rugged and rough, they wouldn't let me enter the venue. After that show Boris kind of kicked me out of the band. He said: "You're becoming unruly now, kind of a rebel", and in fact I was. At that time I also started to let my locks grow and you have to realise that in those days dreadlocks were still getting a lot of hustle by the police and such. It was rough at times, but I was young and curious and I persevered."
Now all these years later, what does being a Rastafarian stand for for you?
Earl Sixteen: "In 1966, when Haile Selassie came to Jamaica, I was there. I was living in an area of Kingston that was chosen to build the Haile Selassie Junior Secondary school on. When he came to see the land that he was acquiring, we were there to clean up the terrain, chopping down trees and all that. I met him in person and it was like meeting a great icon. I try to maintain that livity, because he was a very immaculate person. He was always dressed very neatly, so I tried to uphold that in my appearance too. I see Selassie as one of the great leaders of the world like Malcolm X, Martin Luther King and Marcus Garvey."
What prompted your move to England?
Earl Sixteen: "I felt like being persecuted in Jamaica. After spending time with people like Bob Marley, on Hope Road, Peter Tosh and Hugh Mundell, I noticed they were all dying very young. It was like the Black Uhuru song: "Too much bull inna di pen"; there were too many talented people in the same place. I decided to get out and leave my place to someone else. I felt claustrophobic. I started travelling, first to Canada to do some shows with Philip Fraser and then I got an invitation to do a show in England together with Eek-A-Mouse and a number of other artists. That was in 1985. I really liked the vibe and noticed the people in the UK knew me and my songs. When I returned to Jamaica, the same stuff was still going on, but luckily I had made a girl pregnant in England before I left (laughs), so I had an excuse to go back. I just returned, got married and started a family."
Let's talk a bit about your collaborations with bands like Leftfield and Dreadzone. How did you hook up with them?
Earl Sixteen: "I came to England in 1987. My "baby mother" knew Mad Professor, she introduced me to him, I voiced a couple of tunes and eventually started working on an album ('Babylon Walls', red.). One day, a guy called Paul Daley phoned Mad Professor because he wanted to find out who the singer was of a Greensleeves tune called 'Trial And Crosses' that he wanted to use for a remix. That song was mine of course. When Professor called me to ask if it would be alright to do the remix, I said: "No man, I can't give him permission to remix the song, let me sing the song for him again!". He then said: "Yeah, but we don't have any money!", but that was no problem for me. When I went into the studio another guy called Neil (Barnes, red.) was there with Paul too and they of course ended up forming Leftfield. The song was released under the title 'Release The Pressure', but was really an old Jamaican tune of which I changed the lyrics a bit. The song of course got to lead a life of its own, going from the underground scene to single of the year in the United Kingdom. Some time after that I did a record called 'Holding Back The Years', which I also tried to sell at a record company called Fat Shadows. A guy called Mike, who worked there, told me he was working with a group called Big Audio Dynamite that might be interested in a singer like me. He gave me Greg's (Roberts, red.) number. When I called him he told me he was not working with actual singers at that stage, but just dubbing and mixing. But around 1994 I got a call from Mike again saying that Greg, who had now formed Dreadzone, was looking for me to voice a tune called 'Zion Youth'. That ended up being the first single from Dreadzone's 'Second Light' album. They were under contract at Virgin Records at that time, so when the song took off, right away they asked us to do a video, which was something I never did before! At about the same time we did a video for 'Release The Pressure' with Leftfield. So all of a sudden I had two videos playing on MTV and two songs in the top 20, it was crazy!
Would it be fair to say that now you are the "dread" in Dreadzone. There can't be any Dreadzone without Earl Sixteen?
Earl Sixteen: "No, that would not be fair. Dreadzone is a concept that evolved from Big Audio Dynamite, with guys like Leo Williams, Don Letts and Greg Roberts. I really have a lot of respect for what those guys did. I'm glad to be a part of it. I'm not as energetic as Spencer; Mc Spee really brings the energy and vibe into a live gig. It's a modern and futuristic sound, always looking for a new vibe, and I like that."
Talk a little bit about the new album. According to Greg it's a lot more vocal than Dreadzone's previous albums, so that must mean you must be more present on it as well.
Earl Sixteen: "The new album has more of a street style. Before Dreadzone has always had more of a New Age image. I remember playing concerts, like at Glastonbury for example where people were all dressed up in strange clothes, and would come almost to worship the music we played. Most of us have matured now; we all have families, so the sound has evolved too. It has become more mainstream. I think it's time for us to do that. It's an interesting album and already from the promos we sent out we're getting offers to play concerts around the globe."
When can we expect some new Earl Sixteen solo work? It's been a while since there has been a new album.
Earl Sixteen: "I've been working on a solo project with Sly & Robbie and Mad Professor. I'm trying to release it on my own label and I'm also working with some people from Germany, the Oneness Band. I'm basically trying to keep my name going, because I haven't done an album since 2002, which was 'Wonderous Works' by Gussy P. I'm looking forward to get stuck in that solo thing again. The album should be ready for the beginning of 2006. (The Mad Professor produced album 'Wake Up' was indeed released in 2006, red.)"
My last question is a big one. This summer London was left shaken after several terrorist attacks. How did you, as a Londoner, experience that and how do you look at the future now?
Earl Sixteen: "It was a detrimental thing, a very devious act and it was once again done under the banner of religion. I won't comment on the motive behind those acts, but they were a bad thing. It's very scary to see that even though England is a very subdued laidback place, which has been helping people from all over the world, asylum seekers and refugees, this can still happen. We have to realise that these are the "last days". The gates of hell were opened when Israel invaded Palestine. I've even written songs about that; I have a song called 'The Gates Of Hell'. The whole earth system, the ozone layer and all that, has gone crazy right now. We have to be patient and realize only love can conquer. You have to love your brother no matter if he's Muslim, Christian, Buddhist or Rasta! It's sad when people take on a religion and then try to force it on someone else. It's the sign of the times; the days are getting shorter, day is turning into night! A friend of mine, Yabby You, has a song that goes: "King Pharaoh's plague is coming on the land. The rivers are turning blood." ('King Pharaoh aka. Plague On The Land', red.). That is what is happening now, too much blood being shed, too much corruption. The youth involved in terrorism have to realize it's no good being a martyr under the ground or a "John Gotti" behind bars. You have to deal with freedom and life. Be ready when king Selassie steps on the earth again! One love!"