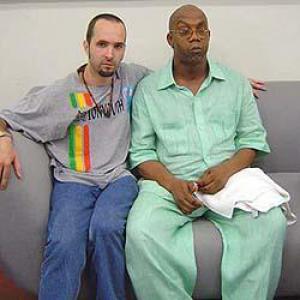 Frankie, I have to start of with that old cliché question. They call you 'The Jamaican Stevie Wonder'. Are you tired of hearing that?
Frankie Paul: "I hear it all the time. I don't have anything against it; he is my idol in music."
I actually read somewhere that Stevie truly inspired you in person at one stage when he visited you when you were in hospital. Is that correct?
Frankie Paul: "No, he came to my school, the Salvation Army School for the Blind in Kingston. He brought us a Thermoform Braille copier. He also sang and at that point I was pushed on stage to sing along with him. It was a great experience; he told me to keep it up and that's what I'm still doing today!"
I know you are not only a great singer, but a very talented musician as well. What came first?
Frankie Paul: "Everything came at once! (laughs)"
What drew you to singing then? What made singing just that little bit more important?
Frankie Paul: "I got this gift from the Most High and I'm just here on this earth to fulfil my duty as a musician."
You made a ton load of albums of which some of the best known ones were with Junjo Lawes. He was your producer for tunes like 'Pass The Tu-Sheng-Peng' and 'War Is In The Dance'. Is he special in any way for you?
Frankie Paul: "No not really. I used to hear the big bad name Junjo when I was a kid and the name scared me. When the name Volcano was mentioned (Junjo's studio, red.) people were always talking about bad people and stuff. When I finally went up to the studio to meet Junjo I was still very nervous. At one stage he called out to get "that youth", which was me, into the studio and that was when I voiced 'Hot Number'. Of course I then found out he was really a cool guy after all."
As a musician where does your true love lie, being on stage or creating new music in the studio?
Frankie Paul: "Both things really. Those are the two things I most like to do in my life. They really give me a good vibe."
You seem to be born to be on stage though!
Frankie Paul: "Definitely!"
Was tonight's performance (a shared set with U Roy and Gregory Isaacs, red.) too short for you then?
Frankie Paul: "Well, anything goes I suppose. (laughs) I wasn't finished though; to be honest I didn't even start. I had to cut my songs short."
Let's talk about one of your songs then. 'Pass The Tu-Sheng-Peng' is without a doubt your most well known song and biggest hit. When and how did you write that tune?
Frankie Paul: "I wrote it in Jamaica going from Montego Bay to Negril with some of my friends. At one point I just said: "You don't have some Tu-Sheng-Peng there?". I don't know why that word popped into my head there, but I just didn't want to say weed or ganja in the open like that."
You can hardly mention reggae music without talking about ganja. It's still illegal in Jamaica, but here in Europe we have some countries like Holland, where it has been legal for years, or Belgium where the laws have become somewhat more lenient. What are your views on the herb?
Frankie Paul: "Well, it's like a medicine. It's an upliftment for your whole system. It keeps you young and free and happy. Blend that with the music and you can't go wrong. As you say it's still illegal in Jamaica, but I can walk around with my pound of ganja in Gambia. (laughs)"
So like Luciano you're a fond visitor of Gambia then?
Frankie Paul: "I actually live there!"
Well, they can't say anymore that there aren't any Jamaicans that moved back to Africa then! What inspired you to move there?
Frankie Paul: "I first went to do a show there and the people loved me and I loved the people. It's more peaceful and crime-free than in Jamaica there."
That's definitely a hot issue that you touch there. This year alone already more than a 1000 people were killed in gun-related issues on the island. How do you see that evolving?
Frankie Paul: "It's a whole bunch of things going on. I just think they should live in a better way than they are and try to make everybody feel proud again of being Jamaican."
To end this interview, do you have any loving words for the people in Belgium?
Frankie Paul: "I would like to say to the entire world, Belgium included: "P.L.U.S.H., peace, love, unity, strength and happiness and keep strong!"."