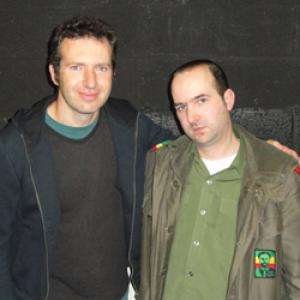 Raphaël, how exactly did a bunch of young Swiss musicians come to play Ethiopian music?
Raphaël Anker (trumpet): "A friend of mine had travelled to the Soudan, Egypt, Yemen and Djibouti and had brought back a plastic bag filled to the brim with cassette tapes. When I heard that music for the first time, it really blew me away. When I went in search of more I discovered Francis Falceto's Ethiopiques series on Buda Records. With Imperial Tiger Records we've chose to focus on the Ethiopian music from the end of the nineteen sixties and the beginning of the nineteen seventies; music that is more or less the Ethiopian equivalent of what we in the west would call soul. Like everywhere else in the world, the Ethiopian youths were emancipating themselves in the nineteen sixties. The development of Ethiopian music supposedly came to a grinding halt when Emperor Haile Selassie I was deposed in 1974 (Haile Selassie was deposed on September 12th 1974 after a group of around 120 soldiers staged a coup. Among the group were Aman Mikael Andom, the first head of state of Ethiopia after the coup, Tafari Bente, Andom's successor who was murdered in 1977 and Mengistu Haile Maryam, who from 1977 onwards would become Ethiopia's ruler, red.). Under the subsequent dictatorial regime of Mengistu and the Derg, a curfew was imposed which changed everything and eventually meant the end for the great orchestras of the era. Fortunately Ethiopian music didn't come to a complete standstill altogether; a small underground movement kept at it using whatever means they had at their disposal; it's in this period rhythm boxes and synthesizers made their entry. Apart from popular music, Ethiopia also has very rich traditional music spectrum and that's something we'll definitely be focusing on more for our third album. There are more than seventy different ethnicities in Ethiopia, each with its own rhythms and dances."
Besides the krar you guys also use some kind of Ethiopian percussion.
Raphaël Anker: "Yes, it's called kebero and is used all over Ethiopia. Simply put it's made up of four tom-tom drums: a bass, a medium and two high-toms. Normally the kebero is played in a seated position and at a somewhat slower pace than we do."
Were these instruments included from the very beginning?
Raphaël Anker: "No, we gradually introduced them. We bought the kebero when we visited Ethiopia. For the two albums we've done so far, we collaborated with Jeroen Visser, a Dutch musician who also recorded an album with The Ex, for which they worked with Ethiopian musicians like Getatchew Mekurya and the reputed krar player Mesele Asmamaw. When we visited Ethiopia, we also had the chance to play with him and he introduced his instrument to our guitarist Cyril Moulas."
All the pieces in the Imperial Tiger Orchestra repertoire are instrumental in nature. In France Badume Band often works with Ethiopian vocalists. Is that something you also do?
Raphaël Anker: "Yeah, we've done that a couple of times in the past; the last time we played here in Belgium for example, we were accompanied by Bethlehem Dagnachew, a young Ethiopian singer."
Are all the songs you guys play cover versions of Ethiopian originals?
Raphaël Anker: "They are, yes. Some of them we rework and the end result is then often far removed from the original, but for most songs we try to stay true to the original."
How do you go about finding these originals?
Raphaël Anker: "I've brought quite a collection of cassette tapes with me from Ethiopia and others I just found on the web."
I was just wondering, because I know Ethiopian vinyl goes for serious prices these days.
Raphaël Anker: "When we visited Ethiopia, I was lucky enough to stumble on a stack of old vinyl records, but it's true they've become hard to find."
Am I well informed when I say it was Francis Falceto who invited you to come and play in Ethiopia?
Raphaël Anker: "That's correct; I contacted him and soon after he came to see one of our concerts when we were playing in Paris. He must have like what he heard, because immediately afterwards he invited us to come and play at a festival in Addis Ababa, the Festival des Musiques Ethiopiennes. We played five or six concerts at different locations in Addis."
How did the Ethiopians react when they saw a bunch of white Europeans playing their music?
Raphaël Anker: "From what I could gather they were quite flattered that people from a faraway culture were playing their music. To be honest the first few concerts we played I was quite nervous because I didn't know what to expect. When we played the Azmari Betoch (An azmari is an Ethiopian singer-musician, comparable to the West African griot and can be either male or female, red., together with traditional Ethiopian musicians, red.), their respect was worth even more then the applause of the audience."
The first part of the Imperial Tiger Orchestra band name is clearly an ode to the big Ethiopian orchestras of the Haile Selassie era, but to my knowledge there aren't any tigers in Africa?
Raphaël Anker: "There's a whole story behind that name. The official orchestra of Haile Selassie was called the Imperial Bodyguard Orchestra and like you just said our name is a bit of an ode to that band. Ethiopia is often symbolized by the lion, "anbessa" in Amharic, but since we're not Ethiopian, we decided to switch the lion for/with the tiger. That tiger is also a wink at a scene from a Monty Python movie ('The Meaning Of Life', 1983, red.)."
Unfortunately Ethiopia is still all too often associated with the images of the great famines of the nineteen seventies and eighties. If I were to ask you to alter that image somewhat, what would like people to know about Ethiopia the most?
Raphaël Anker: "It's a country with a warm and welcoming population and a very rich cultural history. As a nation it's also a mosaic of different cultures and ethnicities. The same can be said of its geography, which ranges from desserts over high planes to actual mountain ranges. Ethiopia is an incredible place and absolutely worth a visit!"