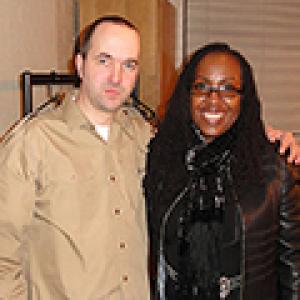 Janet, something not all of your fans might know is that your last name is Bogle and that you're a direct descendant of National Hero of Jamaica Paul Bogle. How did you find out about that lineage and what does Paul Bogle represent to you?
Janet Kay: "I've kind of always known we were related to Paul Bogle, because my father told me the story when I was still a child. What I'm still not completely clear on is the exact lineage as I'm still researching that. Having a forefather that tried to improve the lives of the Jamaican people is of course something to be proud of. I still remember the first time I went to Jamaica (Janet was born in London, red.) and my father showed me the two dollar bill."
The first song you recorded was a cover version of Minnie Ripperton's 'Loving You'. The producer of the single, the late Alton Ellis, is sadly no longer with us. How did you come to work with him for your debut recording?
Janet Kay: "Even as a little child I always wanted to perform even though I was quite shy at the time. I was already involved in music when I was still in school and when I went to college I started rehearsing with some local bands, never on a professional level though. One night I ended up in a rehearsal room on Harrow Road in North London, which turned out to be the place where bands like Aswad and Tradition rehearsed. When we arrived there, nobody was there yet, so I started messing about a bit with the microphone and just at that moment Tony Gad came in and heard me singing. At that time Tony used to live close to where Alton Ellis was living and when he heard Alton was looking for a female vocalist to record a cover version of Minnie Ripperton's 'Loving You' he told him he'd heard me sing. You have to remember this was the age before mobile phones and internet, so it took them a while to find me. When I told my parents Alton wanted to record me, they were very reluctant at first; stating they didn't know who he was and that he should first come to the house and introduce himself formally. In the end that's exactly what happened and the rest is history!"
Someone else who took you under his wing was Lloyd Charmers, who sadly has also passed away. How do you remember him?
Janet Kay: "He was very funny and charming, hence the name Charmers I suppose. He was a wonderful performer and producer and it's another sad loss. It's sad realizing I've worked with a whole list of people who are no longer with us."
Your signature tune is still 'Silly Games', which introduced you to Dennis Bovell. How important would you say has his contribution to lovers rock been?
Janet Kay: "Dennis Bovell has without any doubt been one of the most successful lovers rock producers and he has worked with a lot of artists in the genre from Louisa Mark over Brown Sugar to his own band Matumbi. He's definitely got a style of his own and when he does his thing something magical happens."
Am I overstating it when I say the success of 'Silly Games' changed your life?
Janet Kay: "I remember I had used my first earnings to book a holiday with a school friend of mine, applied for my very first passport and when I finally got over there, I got a phone call telling me I had to come back cause 'Silly Games' was topping the charts. Sometimes in life things are just meant to be. I'm the eldest of six children in a family where only my father worked, so my parents simply couldn't afford to send me to music school or what have you, but faith still found a way and my whole career has been an organic sequence of events."
An interview with Janet Kay without mentioning Japan wouldn't be complete. How did that whole lovers rock craze in Japan start? Was someone in particular behind it all?
Janet Kay: "I think it might have been a little bit of a fluke. I was as surprised as anyone when I got that first invitation to play some shows in Japan, but when I got there it was absolutely amazing. To give you just one example, it's the only place I know where I've performed in front of an audience where almost everyone was crying! Even though most of them did not speak English, they somehow grasped the language, the vibe of the music. For the Japanese it's not 'Silly Games' that is my biggest hit, but 'Loving You', which was a huge hit over there. The first and only time I was offered a record deal was in Japan where I worked with Sony Music Japan for close to fifteen years! From about 1990 to 2009 I would fly to Japan at least once a year."
Apart from being a singer, you're also a television and stage actress. What is it you find in acting that you wouldn't necessarily find performing music?
Janet Kay: "I've never had any formal acting training, but like with music it was something I didn't mind having a go at. When they were filming 'Babylon' I had the chance to visit the set where they filmed the engagement scene and there I met Victor (Romero Evans, red.). A few weeks later the guy behind Arawak Records, the label that had released 'Silly Games', opened his own record shop Finsbury Park and asked me to come to the opening to sign some copies of the single. When I saw Victor Romero, whom I remembered meeting on the set of 'Babylon', walking through the door I decided to pluck up the courage and ask him how to get into acting. As it happened he was a member of a black theatre company that was just doing a musical and was still looking for an actress that could also sing. I did audition, got the part and proceeded to some other plays with them and at one stage we were commissioned by Channel 4 to create a television series. 'No Problem' was the first black sitcom that aired in the UK."
More recently, together with Carroll Thompson you created something called 'The Lovers Rock Monologues'. Tell us a bit more about that project.
Janet Kay: "The lovers rock monologues is something I created together with Carroll and Victor Romero and basically it's music meets theatre; it's a show where we perform monologues talking about how things were in the lovers rock scene back in the day, from the clothes we used to wear over the music we used to listen to and even what it was like for our parents to arrive in the UK from the Caribbean. Each monologue end seamlessly blends with one of our hit songs."
I noticed you're still turning out physical albums. Are lovers rock fans still the CD-buying kind?
Janet Kay: "They are, but they need to be trained to start buying and ordering stuff online, because most of the record shops have now closed their doors. (laughs) In the near future I will be putting my entire back catalogue, including all the albums that were only released in Japan, on iTunes, so people should definitely keep an eye out for that."