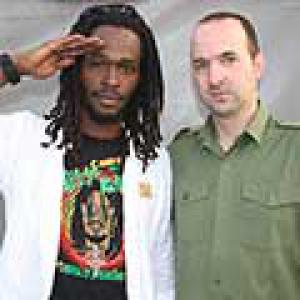 Jesse, I read somewhere that you started your singing career by impersonating Ziggy Marley & The Melody Makers.
Jesse Royal: "Well, I don't know if I would really go as far as calling what we did impersonating! (laughs) Thing was, Ziggy's son Daniel and me used to go to the same prep school; we were like brothers from another mother. We used to hang around Ziggy & The Melody Makers and to have some fun we started copying what we heard. It was never anything serious though, just kids having fun."
When would you say did you start taking music more serious? When did it become a career option?
Jesse Royal: "I guess that must have been around my fifteenth, but growing up around Ziggy it felt like a natural progression to me. More than a career option, for me music was and is my life. When I finished high school I finally had the time to focus on what I really wanted to do, which was music. After that, what really put my career in gear was meeting the late Fatis Burrell, who became my musical mentor and opened my eyes to a different reality. Some of the things he taught me were the importance of knowing oneself and the fact we are all vessels of Jah."
Unfortunately Fatis is no longer with us. How will you remember him?
Jesse Royal: "I will certainly hold onto the many lessons he taught me. Because of his appearance many thought Fatis was a rough character, but in fact he had a very soft and kind heart. He was a great teacher. I even learned a lot from just observing how he handled things."
When talking about role models, I think in that regard I should also mention Earl 'Chinna' Smith. What's your relationship with him?
Jesse Royal: "Chinna is like a grandfather, father, brother and friend all rolled into one. He's a great musical inspiration and I feel privileged to have been given the opportunity to reason with such a conscious soul and vibrant mind. Chinna has always ensured I keep my head pointed in the right direction; I love him as if he were part of my own family."
Together with Walshy from Major Lazer you released the 'Royally Speaking' mixtape. How did that collaboration come about?
Jesse Royal: "Walshy came to see one of my shows in Jamaica and after the show came to find me backstage to tell me how much he had enjoyed the concert. He basically invited me to do something together and since I really respect the work he'd done with Major Lazer and even before when he was still working as a selector for Black Chiney, I could see that work out. We did most of the work on that mixtape in one day; we rented Geejam Recording Studio in Portland and recorded for twelve hours straight. I'm really pleased with how it's turned out and the positive reception it's gotten from my fans."
You've released a couple of mixtapes now. Is that also what you're going to continue doing in the future, or can your fans also expect an EP or even an album?
Jesse Royal: "There will definitely be an album at one point, but the mixtapes are important to wet the people's appetite and to check what works and what doesn't. I don't see people buying my music as just consumers, so that's why I don't mind sharing a mixtape like 'Royally Speaking' for free. It kind of symbolizes the fact my fans mean as much to me as my music does."
These days you live in Kingston, but you were born in Saint James, Maroon country. Do you come from Maroon lineage yourself?
Jesse Royal: "I do have Maroon blood, yes. It's the struggle of our ancestors that made us what we are today. The fact I descended from a set of people who refused to be enslaved is something I carry with pride and it also inspires me in doing my own thing!"