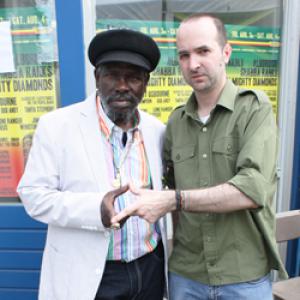 Johnny, as for so many artists of your generation, your career really took off when you started recording for Studio 1, but take us back to the very beginning if you want.
Johnny Osbourne: "I already recorded a first album in 1969 for Winston Riley's Techniques label called 'Come Back Darling'. Right after I finished that album I migrated to Canada and would end up staying there for the rest of the decade. I came back to Jamaica in 1979 and that's when I recorded the 'Truths And Rights' album for Studio 1. After that followed 'Fally Lover' for Junjo Lawes and 'Folly Ranking' for Jammy's and that got my career on the rails again."
What prompted you to move to Canada right after having launched your debut album?
Johnny Osbourne: "Well, if you know the history of Jamaica, you'll know that towards the end of the nineteen sixties, beginning of the seventies, there was a rise in political unrest in the country. Now my mother had already migrated to Canada earlier together with my brother and sister. I held off at first, because I didn't really feel like leaving Jamaica, but when things eventually got too hot I decided to join the rest of my family anyway. When I was over there I was still involved in music; among other things I was part of a band called Ishan People (under the moniker Bumpy Jones, red.)."
You just mentioned you recorded your first album for Techniques. Winston Riley, the founder of that label, passed away in very sad circumstances earlier this year (On 1 November 2011, Winston was shot in the head at his home in Kingston. According to police, he had been the subject of several earlier attacks. After being in a coma since the shooting, he died on 19 January 2012, red.). How do you remember him?
Johnny Osbourne: "What I remember most about Winston Riley was that he really loved the music and that he was a very good producer. That's how I like to remember him anyway."
'Truths And Rights' was a very spiritual heavily Rastafarian inspired album. When did Rastafari find you?
Johnny Osbourne: "I grew up in a neighborhood where a lot of rasta elders also used to hang out, so I was influenced by that from very early on, but at that time I was still living with my parents so couldn't start dreading up just like that; in those days becoming Rastafarian was still somewhat of a taboo in Jamaica. What I used was every time I went out I used to fuzz up my hair into what we called "bathroom dreads" and then when I got home I would quickly comb my hair straight again. (laughs) When I recorded 'Truths And Rights' I didn't have locks yet - you can check that on the album cover - as I only started dreading up at the beginning of the eighties."
What was working with Coxsone Dodd like?
Johnny Osbourne: "To me Studio 1 was like Jamaica's answer to Motown with Coxsone Dodd playing the role of Berry Gordy. He was without a doubt one of the greatest producers in the history of Jamaican music and personally I only had good experiences working with him. He did a lot for my career and from all the recording work I did over the years I think I enjoyed my time at Studio 1 best. Coxsone was like a member of my family to me and Studio 1 was my home!"
Your nickname is 'The godfather of dancehall'; is that a nickname you carry with pride?
Johnny Osbourne: "I got that nickname when I returned to Jamaica in 1979. In that period I recorded a lot of dubplates for various sounds who used them in sound clashes. Those dubplates were very popular and that's how I became known as the godfather of dancehall."
At that time the dubplate business was still a very exclusive affair whilst nowadays just about everybody can buy a dubplate if they pay the right amount of money. What's your view on that evolution?
Johnny Osbourne: "Well, if you turn out good food, you shouldn't reserve it for one set of people; good food should benefit everyone. Every good soundman wants a good dubplate and these days they can get it as well, so I don't see a problem there."
As 'The godfather of dancehall', what's your take on the dancehall music that's being made these days?
Johnny Osbourne: "It's a new day and a new time! The young people have adapted the music to their taste. It's definitely different, but you won't hear me criticize the new school because the classic music is still around as well. What we really should be focusing on is uniting the old school and the new school and make one big university! (laughs)"
Jamaica is celebrating its 50th year of independence this year. What does that anniversary mean to you?
Johnny Osbourne: "It means a lot to me because I still remember that day in 1967 very well and when I think of this anniversary that's also the Jamaica that my mind goes back to. I went to the celebrations at the National Stadium that day and what I witnessed was a real pandemonium. Jamaica has definitely changed in those fifty years; maybe not as much as you and I would have liked it to, but it has changed none the same. Any fraction of change towards betterment is a good thing!"