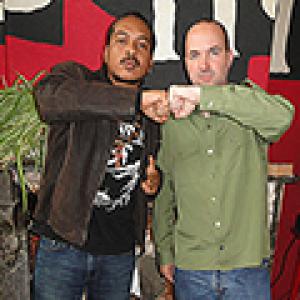 Massy, reading your biography it stated you got your first break in the music business working with the Daseca label, but musically speaking where did it all really start for you?
Michael 'Massy The Creator' DaCosta: "Well, I guess that must have been while I was still in my mother's belly, but I don't think we have to take it back quite that far! (laughs) In all seriousness though, I've already been writing songs from ever since I was still a child. If I remember correctly, the first time I actually recorded one of my tunes in an actual studio was when I teamed up with Kabaka Pyramid's older brother Supanova for a track I believe was titled 'Pimpin'. I remember I was still in high school back then and I think it must have been around 1998 somewhere. Then in 1999 Daseca (David Anthony Harrisingh, Craig Serani Marsh and Craig Andrew Harrisingh, red.) came to check out a show that was being staged at my school. I walked on stage, took the microphone and said nothing. The whole school went wild, but I put the microphone down and walked off stage again. (laughs) Afterwards Daseca came to find me and told me: "I don't know what you sound like, but I just have to work with you!". At that time I didn't even have a stage name yet; I was just known as Michael. When we started working in the studio Serani played some riddims for me and I killed them one by one. So he decided to call me Massyka, as I massacred or destroyed every riddim. After working with Daseca for some time, I decided to put my music career on hold and left for the US."
What spurred that decision, because many other budding artists might have said: "Well, my career is taking of now, so let me focus all of my energy on that!"?
Massy The Creator: "I just love new experiences… That's how I get the inspiration to write my songs. I love expanding my brain as well; for me it's all about knowledge. In the music business, the more knowledge you have the better your music will be. A lot of people tried to discourage me from leaving to the US, but I had made up my mind. I wound up studying video and music production over there and also got involved in a band called Doctrine. We toured the US and won Battle of the Bands. It was also around this same time that I started producing music for other people. But then I felt the time had come for me to return to Jamaica. I hooked up with Kabaka Pyramid, Supanova, Koro Fyah and T Dot. The tragic passing of Rap Brown (Taiwo McKenzie, red.) brought all of us closer together and that was really the start of the whole Bebble Rock thing. At the time it was all very much hip-hop influenced and I felt I wanted to go in a different direction than they did, so I branched off on my own and founded Dam Rude Records. I started focusing on dancehall and produced one of Chronixx earlier tunes, called 'X', and started working with people like T.O.K., Elephant Man. At that time I was more focusing on working as a behind the scenes producer and video director then on my own singing career."
In Europe you really made a name for yourself when in 2015 you recorded 'Chill Out', a combination with French reggae singer Naâman.
Massy The Creator: "Once again I'd like to call it divine intervention. I think Naâman got a link from Jake Savona in Australia. When we first met music wasn't really involved yet, but we clicked on a personal level, so after a couple of weeks we decided to see if we could take it to a musical level. We recorded 'Chill Out' together and shot a video for it. The video blew up on YouTube - I think by now it has gotten more than 4 million hits - so Naâman ended up inviting me to come to France to do a number of gigs with him and the rest is history!"
Now there's also this Belgian connection with Last Warning Sound. How did you guys link up?
Massy The Creator: "Doing shows with Naâman I went all around France, and one of the shows we did was at a place called Bibam Bar (Saint-Jean-de-Luz, red.) and Simbah (Lynn Duyvejonck, red.) from Last Warning Sound was present. He came to find me after the show, we stayed connected through Facebook and eventually he invited me over to do some shows together and we ended up spending three weeks on the road together! This year we're doing the same thing again, trying to build on the foundations that were laid last time."
In 2016 you released your debut album 'Future Roots'. What can you tell us about that title?
Massy The Creator: "As I already explained hip-hop had a major influence on me while growing up and I would say the genre in general was quite influential in Jamaica for a while. I always said to myself that if I could find the right way to blend hip-hop with reggae and influences from other genres, I would strike gold. I love the whole revival scene, but sometimes it rather feels like looking backward instead of forward. With my music I want to focus on the future without forgetting about my roots, hence the title of the album 'Future Roots'."
Being a bit of an all-rounder yourself it might surprise some people that for 'Future Roots' you teamed up with Israeli producer Amit Sagie.
Massy The Creator: "I was just hanging out at my studio one day when I saw this white guy with long dreadlocks and a guitar on his back passing by and I just had a feeling I had to stop him and talk. He let me hear some of his beats and riddims and told me he was a producer from Israel. So we started working on some songs together and before he returned to Israel left me with no less than 30 of his riddims, so I don't have to tell you I had plenty to choose from for the album! (laughs)"
Why do you think it took you all this time to come up with a debut album?
Massy The Creator: "It took me some time to find my true self. As I already mentioned, I started out as Massyka, but as time went on more and more people started approaching me telling me my name didn't really fit my music. I started reflecting on it, and truth be told Massyka or massacre, that's really about destruction, so in the end I decided to turn it around so I just kept Massy and added The Creator. Ever since I've been carrying that name the energy flowing through my work has been completely different, also making me feel ready to finally release a debut album."