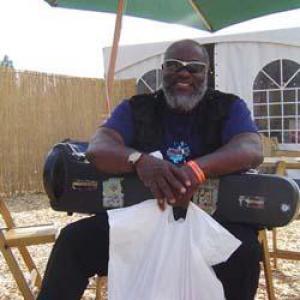 If you haven't heard the name 'Nambo' Robinson yet, just pick up any reggae album at random and there's a big chance his name will be on it. Together with his buddy Dean Fraser, Nambo is considered to be one of the hardest working musicians in Jamaica. Put that duo together with trumpeter David Madden and you've got an unbeatable horn section at your disposal. We caught up with the legendary trombone player at the Couleur Café festival:
Nambo, you are one of the most famous trombone players in Jamaica... No, let's be honest, you are the most famous trombone player in Jamaica. Have you got any idea on how many records you have played over the years?
Nambo Robinson: "(laughs) No I don't. I definitely don't know. Sometimes I try to check it out, but I simply don't have the time. It's quite a lot of records in any case. I count myself lucky that I've been around for so long."
What we, as fans, are wondering about is the fact that you are on so many records, but you keep on touring the whole time as well. How is that humanly possible?
Nambo Robinson: "Well, touring is mostly a seasonal thing you know, usually during the Summer months and people whom I've recorded with over the years will actually wait for me to have the time to record the horns. I'm very fortunate in that situation. Sly & Robbie for example won't record a horn section unless I'm there. So if I'm touring, they just wait."
I've often seen you on stage together with Dean Fraser. There seems to be an incredible chemistry there.
Nambo Robinson: "Dean and I were thought by the same teacher. We studied together at the Jamaica School of Music, together with Chico (Junior 'Chico' Chin, red.) too. I was the eldest one and it's become a great lasting friendship over the years. Most of our musical careers we have been together."
The eighties meant the introduction of the synthesizer in Jamaican music. It often replaced the old horn section as a cheaper and easier alternative. Did that evolution influence you in any way?
Nambo Robinson: "No not really. We listened well to the ones that came before us and put in a lot of effort and on some occasions I even played around with a keyboard myself. (laughs) The belief in us was strong enough so they kept on hiring us."
From all those albums you played on, are there any favourites that you hold close to your heart?
Nambo Robinson: "Yeah, most definitely. One that stands out was Bob Marley's 'Survival'. That was a piece of work I really enjoyed so much, during the recording and afterwards when it was finished. There were quite a few others, but that one definitely stands out. There's one tune by Bob Andy, 'You Are My Honey', that's also very special to me. That one was a bit different, like a swing thing, so that stands out in my memory too. But as I say, there are so many."
You used to play in the We The People Band, at the time when they were still touring with Dennis Brown. I've just seen the DVD of the Montreux concert, which was a fabulous concert. How do you look back on these times and on Dennis?
Nambo Robinson: "That was a wonderful experience! I really cherish those memories. We had some really great times on the road and in Jamaica. We were like a family. There was great chemistry because it was about making music. It wasn't about money. Because of that it lasted a long time. That was another part of my life that was definitely well-spent. Montreux was something else! That concert has left a lasting impression. I can remember it like it was yesterday. That was the first time I realised the power of reggae music. The people just wouldn't let us go. We did so many encores you wouldn't believe it. None of that is on the video though. A very great experience!"
It's not your first time here on Couleur Café. What are you expecting?
Nambo Robinson: "It's always great here; we'll have a great show. I really enjoy these festivals. Crowd response is always very nice and the more you get the more you give. It's a sharing experience. It's not performing for the people; it's performing with the people. Last time I was here with Toots (Hibbert, Toots & The Maytals, red.). I play freelance now and I enjoy it because it gives me a chance to play with all the people I like to play with. Doing this with Sly & Robbie today is like a beautiful jam session to me, because most of the stuff we do is not rehearsed. We just play and enjoy each other's company. It's good for you as a musician to just jam. It makes you listen more and think more."
Nambo, thanks for this interview and please keep coming around because we enjoy it every time!
Nambo Robinson: "Yeah man! I hope Allah will give me the strength to come back. I am here to play until I go! Inch Allah, if it is the will of Allah. Irie!"