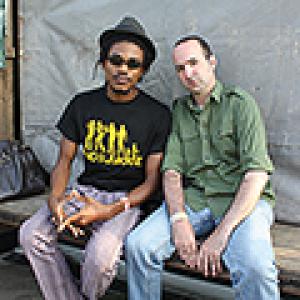 Sheldon, if I summarize what No-Maddz does as "dub poetry for the 21st century", would you agree with that definition?
Sheldon Shepherd: "With No-Maddz we don't really concentrate on labels people want to give us or boxes they want to put us in, so whatever you want to name what you are discovering in our music is just fine with us. Even though dub poetry is definitely at the foundation of what we do, we also incorporate various other genres and influences into our repertoire. No-Maddz is all about self-expression, with change being the only constant."
I believe you guys met while still in high school?
Sheldon Shepherd: "Right, we met while going to Kingston College high school and we first started performing in 2000."
When did the idea to do something that was a bit outside the beaten track start taking shape?
Sheldon Shepherd: "To tell you the truth, we never really planned on doing something off the beaten track, it just happened through us expressing ourselves the way we felt we wanted to express ourselves. We never sat down and said: "Let's do something different!". We just wanted to be ourselves and hoped that people would like what we were doing. That being said, I have to admit that at the very beginning we didn't even care what people would think; it was all still about having fun at that point."
You guys already released a first album in 2010, but for some reason it never made it outside of Jamaica. What happened there?
Sheldon Shepherd: "It was called 'The Trod' and instead of an album we called it a "dembum" or a demo-album! (laughs) We're into live recording and all the tracks we've recorded up until now were recorded in one take. We do that because we want to try to capture the energy of the moment, an energy that's comparable to that during a live concert. We recorded the tracks for 'The Trod' at Finnegans Winery in Saint Andrew and subsequently distributed the album amongst our fans and the press in Jamaica. We got a lot of praise and people really liked it, but to us it was never really more than a try-out."
Dub poetry being at the core of what you do with No-Maddz, who were the people you looked up to for inspiration?
Sheldon Shepherd: "If you're talking inspiration I simply have to mention Linton Kwesi Johnson, who is an amazing pioneer of the genre, and Mutabaruka of course. Personally I was mostly inspired by my father Keith Shepherd, who used to soothe me with his poems when I was still a little child. Of course we were also inspired by some of the greats in reggae music and beyond; people like Bob Marley, Tracy Chapman, Winston McAnuff and so on. The older we're becoming, the broader our musical horizons are getting."
The song that gave you guys that extra push you needed was 'Rise Above Profanity (Poo Puku Poo Puku Poo)'. What exactly is it about?
Sheldon Shepherd: "Most people think of it as being a fun sounding song, but it's actually quite serious. As spoken word artists we don't really approve of censorship. Whenever they are censoring your words they use so-called censorship bleeps and it's those bleeps we are referring to when we go "…poo puku poo puku poo…" in the song. In Jamaica we have a whole range of words that are considered profane, words mostly ending in "claath". For the love of me and for the life of me I cannot understand why these words should be considered inherently bad. In my view a word is only bad or negative when it's being used in a derogatory manner or in order to oppress or suppress. If I'm walking down the street and hurt my toe, I will shout: "Bomboclaat!" to express I'm hurting and when I see a beautiful young girl passing by, I might say bomboclaat as well, to express my appreciation of her beauty. It's a powerful word and shouldn't be dismissed just like that. That's exactly why we called the track 'Rise Above Profanity', as we should aspire to see passed those words we regard as being profane and judge people by their actions rather than by the words they use. Instead of putting censorship bleeps on certain we words, we'd better put them on negative actions like war and violence. The lyrics of the song go: "Protest, unrest and one more time another system is put to the test!"; it's a poem that touches various forms of oppression, suppression and depression and in the end asks: "Wa dis?", what is this we all consider as our existence? Even though a lot of people don't really know what the track is about, we perform it with such an energy whenever we're on stage the audience always feels what we're on about. Part of the song was also used by Puma in one of their advertisement campaigns featuring Usain Bolt, but unfortunately they only used the poo puku poo puku poo sounds, but nonetheless it gave the song a lot of publicity."
You also starred in the 2010 motion picture 'Better Mus Come'. How exactly did you get involved in that project?
Sheldon Shepherd: "The producers of 'Better Mus Come' simply organized an open audition for the movie. Everaldo (Creary, red.) had inscribed himself and asked me to accompany him on the day of his audition. I was just there with him relaxing in a corner when the producer saw me and asked me if I could act. I replied: "Yes man!" and the rest as they say is history! To my surprise I landed the lead role and in the mean time I've already won an award for best actor at the American Black Film Festival going up against greats like Isiah Washington, Lance Cross and Common. It's a great thing to add to my resume! (laughs)."
Are you a dub poet first and an actor after or how does that work?
Sheldon Shepherd: "I'm an actor, I'm a dub poet and I'm a musician. As life is everything, I'm all those things at once as well!"
If we're talking dub poetry, there's also the written part of it. Any publications in the pipeline?
Sheldon Shepherd: "It's funny you should ask that, because I just accepted an invitation to come to Amsterdam coming September to present my book ' In The Mawning Yah' at the Read My World festival. It's the first time I'm publishing a book, but I'll be in good company as Linton Kwesi Johnson will also be attending. It's actually a book of dub poems accompanied by a CD with me chanting the poems without any musical accompaniment. The book contains fifty of my poems and is divided into three chapters following the progression of a day: the first chapter is called 'In The Mawning Yah', the second 'Beautiful Day' and the third 'Fantastic Moonlight'. In addition I've asked ten artists, all people whom I know from Edna Manley College, to read my poems and produce some artwork inspired on them."
In conclusion, why should people who don't know No-Maddz come and see you perform?
Sheldon Shepherd: "No-Maddz is about being curious; like the first nomadic tribes who were curious enough to go in search of new things, curiosity should always be your driving force as a human being and if you want to see something fresh and new coming out of Jamaica, No-Maddz is the band to see!"