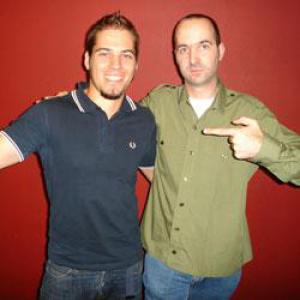 KRSA, you're also known as Lord Panamo, a reference to the Panama hats you usually wear on stage, but also to the legendary Lord Tanamo. For those not so well-acquainted with the world of ska, could you tell us who he was and why he's so important to you?
Kristóf Tóth aka. KRSA: "Lord Tanamo was one of the vocalists who performed with The Skatalites, so he was one of the pioneers of the ska movement. A lot of famous ska tunes were by his hand. Maybe the most well-known song is 'I'm In The Mood For Love', which was covered by Jamiroquai. As a musician, one should always pay respect to the greats and he was certainly one of them."
The logo of Pannonia All Stars, the letter "P" surrounded by a laurel wreath, is reminiscent of the old communist days of Hungary.
KRSA: "Well, some of the members in the band still experienced those days. That logo you mention was actually used by an old motorcycle factory in Hungary that was called Pannonia as well. Pannonia was actually the name the Romans already used to describe an area that more or less corresponds with the area that's now known as Hungary. The company went into bankruptcy after the communist regime collapsed, so we felt free to use the logo. When the started up production again, we decided to change our logo and the new one we're using now is more a reflection on Fred Perry (English tennis and table tennis player and three-time Wimbledon champion. In the late 1940s, Perry was approached by Tibby Wegner, an Austrian footballer who had invented an anti-perspirant device worn around the wrist. Wegner's next idea was to produce a sports shirt, which was to be made from white knitted cotton piqué with short sleeves and buttons down the front. Launched at Wimbledon in 1952, the Fred Perry polo shirt was an immediate success. The brand is best known for its laurel logo - based on the old Wimbledon symbol - which appears on the left breast of the tennis shirts. The white polo shirt was supplemented in the late 50s when the mods picked up on it and demanded a more varied colour palette. It was the shirt of choice for diverse groups of teenagers throughout the 1960s and 70s, ranging from the skinheads to the Northern Soul scene, red.) and the whole British two-tone ska culture."
When you guys started out, Hungary was still awakening from the communist era and all the restrictions that came with it. How did you discover ska music, because I can imagine these kinds of records wouldn't have been the easiest ones to get a hold of over there?
KRSA: "In those early days, most vinyl records came into Hungary via what is now ex-Yugoslavia. The laws over there were much more lenient, so that for us it was almost like going to a Western country. The first music we familiarised ourselves with were old British punk and two-tone ska records. For us, these records were quite expensive, so often one person would buy the record and then copy it to cassette several times so it could be distributed in the underground music scene. In the eighties you had the first, mainly two-tone inspired, ska bands in Hungary, but it wasn't until we appeared on the scene that there was a Hungarian band playing actual Jamaican foundation ska. Apart from that, we're also inspired by rocksteady and early reggae and personally I'm a big fan of rub-a-dub and early dancehall. Now in Hungary we were the first band playing foundation ska, so it was easy to establish a name for ourselves there, but internationally speaking there must be hundreds of bands out there playing this type of ska music, so that's why we decided to spice things up a bit by adding influences from Hungarian folk and gipsy music. Barna, the violinist in the band, was first only playing with Paso's Roots Rockers, a dub side project we're also involved in, but the vibes he brought to the music were so well-received, that we decided to integrate him into the band as well."
The whole Balkan gipsy music thing has become hugely popular in Western Europe now. Do you think the fact you mix in those elements into your music has opened doors to venues you otherwise wouldn't have played at?
KRSA: "Definitely! The first time we really experienced that was when we started to tour outside of Hungary. We were used to play in smaller ska venues and all of a sudden we were considered to be a world music act. For us it's nice, because it allows us to develop both sides of our music."
You already mentioned, Paso's Roots Rockers, one of the side projects you guys are involved in, but there's more, right?
KRSA: "Well, there's the Paso Traditional Ska Special, which is mainly focused on familiarising our Hungarian audiences with traditional ska music. The repertoire consists completely of cover versions of famous ska tunes, but this is something we only do when we play in Hungary. We also host our own radio show called Ska Club (Tilos Radio - fm 90.3, red.), which is also completely focused on ska music and then there's Skanking Camping of course, which is like a small ska festival we organise every year. It's like a gathering of like-minded spirits, I guess."
In conclusion, what does ska music represent to Pannonia All Stars?
KRSA: "Of course it's Jamaican dance music, but in a way, it also symbolises the period when Jamaica gained its independence. It's a rebellious underground music culture that produces upbeat tunes which make people feel good. Because of that and because the content of the songs is often very close to the reality of daily life, ska bears a lot of resemblance to folk music. With Pannonia All Stars we took that resemblance just that little step further by mixing the two genres together."