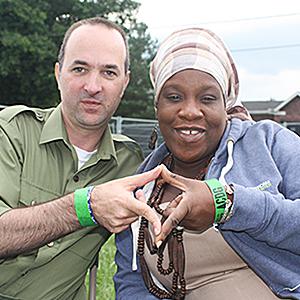 Queen Omega, being Trinidadian I guess we got say it's only natural you started out doing soca and calypso. What caused you to switch to reggae?
Queen Omega: "Mainly because my spirituality changed. I grew up in a Christian household and was told from a very young age to always put God first in whatever I did. But growing up Rastafari found me and that also shifted my musical focus from soca to reggae."
Back when you started out, being Trinidadian, so not immediately reggae country, and a woman, when there's were still few other female role models around in reggae music, how much of an uphill struggle did you face?
Queen Omega: "Well it certainly wasn't easy, but I have to give thanks to the Most High because I still really feel like this was the path I was meant to take. I was born to do this and since I got the opportunity to come to London at a very young age to record my debut album I've never stopped connecting with people all over the world. It's been a truly powerful journey so far! Something I understood quite quickly was that this music isn't about me; it's all about the message and I'm just a vessel used by the Most High to spread it."
What were some of the musical role models at that time?
Queen Omega: "I listened to all different types of music growing up, ranging from Patti Labelle and Mary J Blige in soul and r&b to Sister Carol in reggae. Big respect to Sister Carol as I can't seem to remember many other conscious female artists out there in that era! I can remember watching her perform and telling myself: "One of these days that's going to be me!".
How did you come by your stage name, Queen Omega, which is quite a powerful name to carry?
Queen Omega: "I agree, and to be honest I'm not quite sure why they started calling me by that name. I guess the elders in my community suddenly saw this young Rasta woman coming up and I guess this inspired them, partly because they saw me defending the faith which such fire and fervor. So in me they saw a sort of manifestation of an omega female (the omega female does not belong to any cliques and accomplishes goals without having to be the center of attention, is very strong, smart, and independent, red.) and started referring to me as Queen Omega."
Your first two albums, 'Queen Omega' and 'Pure Love', were produced in collaboration with Greenhouse Family.
Queen Omega: "Yeah, that was Zak Esau, Michael 'Micky D' Swaby and Jamo. They'd heard one of my soca-dancehall tunes and were so impressed they absolutely wanted to work with me. Zak being from Trinidad himself, made it easy to link up and everything started from there!"
For the 'Destiny' album you then joined forces with French producer duo Bost & Bim. Unfortunately Jérémie 'Bim' Dessus passed away since then.
Queen Omega: "Well, I'd like to start by offering my condolences to his family. It's another good soldier gone too soon, you know! Bim was a talented musician as well, and someone who really loved his music with a passion. I have to give thanks to the French people in general, because after London and the UK, the first place where I touched base and had a good following was France. I'll always treasure those sessions with Bost & Bim, because what we did with the 'Destiny' album was pure magic."
There were some years in the not too distant past where thing around Queen Omega seemed to have quieted down. What happened to you during that period?
Queen Omega: "Basically what happened is that I became a baby making factory! (laughs) I got married and soon after was blessed with four beautiful children. The last album I put out was 'Servant Of Jah Army' (2008, red.), a collaboration with Ariwa in the UK. What I'd like to do now, is travel to Jamaica and record an album there. It's been quite a while, so I'm sure my fans are aching for some new material."
As a mother of four, how difficult is it to combine motherhood with a career in music, basically forcing you to travel all over the world?
Queen Omega: "Work is work, you know, and just like in a 9 to 5 job you have to leave your kids behind. The difference with a career in music is that instead of just during the day, you often have to leave your kids for weeks on end. That being said, my kids are always well taken care of as I've got a great husband who's an excellent father, and the rest of my family pitches in as well. As for my children, they know their mum doesn't have an ordinary job, but understand and love what I do. Whenever I'm traveling they're always informing where I am and wither I'm having fun! (laughs) Of course they would like nothing better than to come on the road with me, but I've told them they have to learn how to read, write and play music before I will consider that. I never learned to read or write music and don't play any instruments, and I know the advantages that can offer a musician, so I really want them to learn."
A criticism often being made about Rastafarianism is that it's still quite a patriarchal movement. As a Rastafarian woman, what's your take on that?
Queen Omega: "Well, to start with, we're still living in a very patriarchal, male driven, world. I know my power as a woman and I believe that if we had more women out there what I'm doing, more female voices speaking out, we could bring about a big change. Women hold the cradle of creation, and we're the ones who most often still take care of the kids, so, yes, men might hold a lot of power in this world, but believe me I know mine. And when a woman knows and recognizes her power, she becomes a force to be reckoned with, so I'd like to encourage all women out there to find and exercise their power. We might still be living in a man's world, but we've more than earned our spot!"