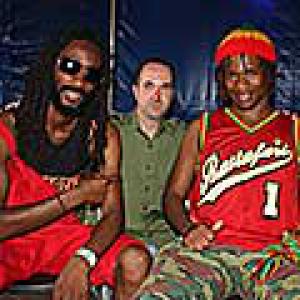 Kumar, if I'm well-informed Raging Fyah started out as a backing band. When did Raging Fyah's outlook on things start changing?
Kumar Bent (lead vocals): "Raging Fyah has been around since 2002. The original core of the band (Demar Gayle - keyboard, Anthony Watson - drums and Delroy Hamilton - bass, red.) met while they were still in school (Edna Manley College of the Visual and Performing Arts, red.). As you just stated, in the beginning they mainly acted as a backing band for various artists, but in 2006 they made a conscious choice to become a full-fledged band. In 2010, I joined the band as a vocalist and that's when things got into high gear and the 'Judgement Day' album was eventually recorded."
If the offer was good enough, would Raging Fyah still consider backing other artists?
Kumar Bent: "As with everything in life there are two sides to that. We definitely wouldn't do it just for the money; that would feel like selling out, but personally I wouldn't mind backing young upcoming artists if it would mean we could give their career a push. At the end of the day we have voices of our own, songs of our own that we want to be heard, so right now our focus lays on spreading the music of Raging Fyah."
Raging Fyah wasn't really a band name you chose for yourselves; people just started calling you guys that way at one point.
Kumar Bent: "Yeah man, we used to rehearse at a studio in Stand Pipe (neighborhood in Kingston, red.) and the owner is a Rastaman who's known as Raging, so that's how we became known as Raging Band. One day we were performing somewhere and the people came up to us asking: "Man you sound hot like fyah, what are you called?" We told them we were Raging Band and they replied: "Big up Raging Fyah!". The name stuck and ever since we've been trying to produce music that lives up to it."
You decided to produce 'Judgement Day' yourselves, but that also meant the album wasn't distributed outside of Jamaica (until it was re-released together with its follow-up 'Destiny' by Soulbeats Records in 2014). Was it a conscious choice to go at it on your own?
Kumar Bent: "It was definitely a conscious decision to produce 'Judgement Day' ourselves, but at the same time we didn't really have anything to loose. We just wanted to give it a try and see if releasing an album of our own would work. We were tired of backing other artists and wanted to do our own thing. We weren't really looking for a big fan base or even huge financial gain at that point and we knew it would be hard work, but we were all prepared to face things and take it one step at a time. 'Judgement Day' was still a straight up roots reggae album, something we'd always wanted to do, but on our new album, 'Destiny', we explored other genres as well. You have to realize the majority of the people in Jamaica are Christian not Rastafarian, so it would be foolishness not to try and connect with them as well and that's exactly what we tried to do with 'Destiny'."
You guys had some impressive artwork done for 'Destiny'. Who's behind that?
Kumar Bent: "It was done by a good friend of ours called Nathaniel Deas, a graphic designer living in Miami, who in the past already did great work for people like Ziggy Marley and The Wailers. It was just natural mystic, because we actually met him by accident and he immediately told us he loved our music. We first asked him to design something for our 'First Love' single, but when we saw the result we knew he was the right guy to do the album cover for 'Destiny' as well."
Apart from being on the road as a band, Raging Fyah is also branching out into some other ventures, like the H2O riddim you guys produced back in 2010. Is that something you're going to explore further in the future?
Kumar Bent: "We were very pride of 'Black Woman', the song Richie Spice did on that riddim. Production work is definitely something we like doing and would like to continue doing in the future. To us it even doesn't matter all that much whether it are well-known or lesser known artists that voice over our riddims, as long as we can get our music out there."
Another thing you guys are involved in are the Wickie Wackie concert nights on the beach in Bull Bay. Is that concept still ongoing?
Kumar Bent: "As you observed, Raging Fyah is a multi-faceted organization and since we're already involved in doing production work for other artists, it's only logical we also provide them with a venue where they can showcase our productions. The Wickie Wackie concert nights take place every first Saturday of the month and we always organize them for six months straight, starting in September and finishing in February, which is also Reggae Month in Jamaica."
Raging Fyah is also a Rastafarian inspired band. What does that life philosophy still hold for people of your generation?
Kumar Bent: "The root is the root and the truth is the truth, and at the end of the day it's about making space for Jah to live inside of you. Apart from that, the main thing Rastafari teaches is one love and one heart; meaning our main mission in life should be to try and co-exist with one another in peace and harmony. Fortunately Rastafari is no longer the segregated thing it once was; wherever you go you'll find Rastafarians. I&I give thanks for Rastafari as it lifts up the nations worldwide!"