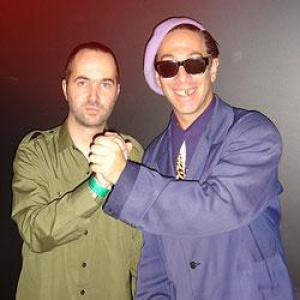 Natty, the whole Ska Cubano project really started back in 1999, when you travelled to Cuba.
Natty Bo (vocals): "Well, originally we weren't really a band as yet; it was just a recording project at that time."
You're also the lead singer of a band called Top Cat, a full-on ska band. Did you already listen to Latin music as well or did that start with the trip to Cuba?
Natty Bo: "No, I listen to a lot of different music and I used to play a bit of blues and jazz as well."
What would you say is the difference for you as a lead singer between performing with Top Cat and Ska Cubano?
Natty Bo: "Ska Cubano is still a fairly new concept where we're mixing different musical styles of the Caribbean. I guess the main difference is the vibe and the energy of the music. The two bands are very similar but then again different at the same time! (laughs)"
Looking at the geographical location of Jamaica and Cuba, the two islands are not that far apart, but somehow, musically, the two never really mixed. Why did that never happen?
Natty Bo: "After the revolution (Fidel Castro's 26th of July Movement overthrew the US.-backed Cuban dictator Fulgencio Batista in a successful armed revolt on January 1, 1959, red.) Cuban music became more internalized with just little outside influence coming in, which was of course partly to do with the blockade (The United States embargo against Cuba, described in Cuba and Latin America as "el bloqueo", is a commercial, economic, and financial embargo partially imposed on Cuba in October 1960. It was enacted after Cuba nationalized the properties of United States citizens and corporations and it was strengthened to a near-total embargo since February 7, 1962, red.). There were some Jamaicans in Cuba, though, most of them working for the United Fruit Company (The United Fruit Company was a United States corporation that traded in tropical fruit - primarily bananas - grown on third world plantations and sold in the United States and Europe. The company was formed in 1899, merged with AMK in 1970 to become the United Brands Company. Since 1984 the company is known as Chiquita Brands International, red.). From a Jamaican perspective, at the beginning of the ska era, there were still a lot of Latin influences in the music - for example, in songs like 'Latin Goes Ska' by The Skatalites, which was an adaptation of 'Pachito E' Che' (Alejandro Tobar, red.) - and some of the top ska musicians were of Cuban descent, people like Roland Alphonso, Rico Rodriguez and Laurel Aitken."
A lot of the musicians in Ska Cubano are used to playing Latin rhythms. Was it easy for them to adapt to ska?
Natty Bo: "No, the rhythm section had to adapt to a whole new way of playing than they were used to. Most of the musicians in the band now reside in London and the whole crew is a mixture of various nationalities ranging from Cuban over Canadian and Japanese to Jamaican and Montserratian."
The second vocalist in the band used to be Beny Billy (born Juan Manuel Villy Carbonell, but these days replaced by Carlos Pena, red.), named that way because his voice is very similar to that of the late great Beny Moré. How did you originally hook up with him?
Natty Bo: "I was rehearsing with some bands in Santiago de Cuba and one day Beny walked into one of the cafes in the town where I was having a drink. He strummed his tres guitar (Cuban type of guitar with three doubled strings, red) and started singing and when I heard that voice, I knew we had found the vocalist we were looking for. Beny sounds like an incarnation of Benny More; you really have to hear him sing to believe it. I have never heard anyone sing like that since."
Who were the people that inspired you most as a singer?
Natty Bo: "As I said earlier, growing up I listened to a lot of different kinds of music, a lot of rhythm and blues and obviously a lot of Jamaican ska, but I also listen to people like Bobby Bland (Robert Calvin Bland, born January 27, 1930, and better known as Bobby 'Blue' Bland, is an American singer of blues and soul. He is an original member of The Beale Streeters and is sometimes referred to as the "Lion of the Blues". Along with such artists as Sam Cooke, Ray Charles, and Junior Parker, Bland developed a sound that mixed gospel with the blues and rhythm and blues, red.), Little Junior Parker (Junior Parker, May 27, 1932 - November 18, 1971, was a successful and influential Memphis blues singer and musician. He is best remembered for his unique voice which has been described as "honeyed" and "velvet-smooth", red.) and things like Cab Calloway (Cabell 'Cab' Calloway III, December 25, 1907 - November 18, 1994, was an American jazz singer and bandleader. He was a master of energetic scat singing and led one of the United States' most popular African American big bands from the start of the 1930s through the late 1940s, red.) and the swing music of the nineteen thirties. Hank Ballard (Hank Ballard, November 18, 1927 - March 2, 2003, born John Henry Kendricks, was a rhythm and blues singer, the lead vocalist of Hank Ballard and The Midnighters and one of the first proto-rock 'n' roll artists to emerge in the early 1950s. He later wrote and recorded 'The Twist' and invented the dance, which was notably covered by Chubby Checker, red.), whose music was produced by James Brown is another vocalist I like a lot."
You just mentioned Cab Calloway there and what is immediately clear is that, apart from his vocals, you were also influenced by his dress style.
Natty Bo: "I've always been kind of dressing somewhat differently. It's less and less easy to find this type of clothes, though. When I was a youth, I couldn't really find any clothes I really liked to wear and the ones I did like were often too expensive, so I just had to come up with my own thing. Amidst all the punks and rude boys of that era, I was a sort of hepcat surrealist! (laughs)"
As the title already indicates, for 'Mambo Ska', you started experimenting more with mambo. Mambo is a very vibrant type of music; did it blend easily with the ska influences?
Natty Bo: "Mambo was the first Latin music that crossed over to Europe, with people like Pérez Prado (Pérez Prado, December 11, 1916, Cuba - September 14, 1989, Mexico City, Mexico, was a Cuban bandleader, musician, singer and composer. He is commonly referred to as the "King of the Mambo", red.) and Machito (Machito, December 3, 1909 - April 15, 1984, born Francisco Raúl Gutiérrez Grillo in Havana, Cuba, was an influential Latin jazz musician and played a huge role in the history of Latin jazz. His bands of the 1940s, especially the band named the Afro-Cubans, were among the first to fuse Afro-Cuban rhythms with jazz improvisation, red.) at the forefront. From mambo, the whole Latin-jazz movement eventually developed. Since both mambo and ska have a very upbeat rhythm they weren't that hard to mix."
For Ska Cubano you're fusing musical styles from places like Cuba, Jamaica and Trinidad. Have you ever performed in any of these places?
Natty Bo: "Sadly, we've never performed in Cuba yet, which is still a big dream of mine. We nearly performed in Jamaica but, as it happens over there sometimes, the promoter ran off with the money! (laughs) We did play in Mexico, though, and the reactions of the people there were really great."
As a final question, how Londonian would you say Ska Cubano is?
Natty Bo: "Well, everyone picks up influences from the place where they live, but in their hearts they still carry the influences from the places where they lived before that. In Ska Cubano we're also like that; we've all brought aspects from the places we're from; and that's really what our music is about as well. People are often too caught up with this idea of identity and nationality, but I'm happy wherever I am in the world!"