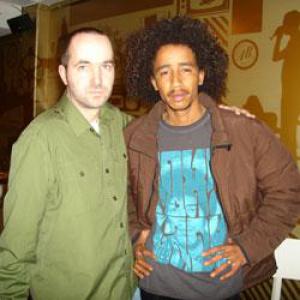 Ousmane, the word "Tuareg" (The origin and meaning of the name Twareg has long been debated. It would appear that Twārəg is derived from the "broken plural" of Tārgi, a name whose former meaning was "inhabitant of Targa", the Tuareg name of the Libyan region commonly known as Fezzan. Targa in Berber means "(drainage) channel", red.) is really foreign to your people, right?
Ousmane ag Mossa (vocals & guitar): "Yes, it's a word that is mainly used by the Algerians and Malians. We prefer to call ourselves Kel Tamasheq ("they who speak Tamasheq", red.)."
Tamikrest is referred to as being "the spiritual sons of Tinariwen". How big has the influence of that band on Tamikrest's music been?
Ousmane ag Mossa: "The musicians of Tinariwen are from the same region we come from. The first songs I listened to were tracks written by Ibrahim (ag Alhabib, red.) of Tinariwen and it were also these tracks I started practicing when I first got my hands on a guitar, so I guess you could say Tinariwen's influence has been substantial. After all it was Tinariwen who laid the foundation for this type of music; we just try to give it our own twist and the vibe of a new generation. The music has to keep evolving."
A western audience will not understand your lyrics. Is that frustrating?
Ousmane ag Mossa: "Well, I prefer that people listening to my music also get what I'm going on about. That's why we included a translation of the lyrics to our songs, both in English and French, in the booklet accompanying the CD. The history and struggle of the Tuareg people is still rather unknown to the outside world. We don't have diplomats or journalists at our disposal, so we depend on our music to get information about our situation out there."
Tamikrest's debut album, 'Adagh', was produced in collaboration with Dirtmusic and you participated on their last album, 'BKO', as well. How did you guys originally meet?
Ousmane ag Mossa: "Apart from listening to the music of Tinariwen, I listen to a lot of non-African music, ranging from rock bands like The Dire Straits to the reggae of Bob Marley. Generally speaking, these kinds of artists rarely play live in Africa. At one stage, we were invited to play at the Festival au Desert in Essakane. We have a habit of getting up early in the morning, brewing some tea and immediately start playing music. Dirtmusic's tent was right next to ours and after a while they joined us in our tent to jam together. That's really how our friendship started. We spent the three days of the festival in each other's company and even performed together. Almost a year had passed when we received a message from Chris (Eckman, red.) and Peter (Weber, red.), telling us they were coming over to Bamako to record an album and they liked us to join them. For us this was a great opportunity because in Kidal, where we live, there are no amenities to record professionally."
You just mentioned the Festival au Desert. What's the importance of that festival to the region?
Ousmane ag Mossa: "It's above all a great meeting place for musicians from the different ethnic communities in the region. At the festival you can see and hear things you wouldn't otherwise encounter in Mali."
A difference between your brethren from Tinariwen and the members of Tamikrest is that they still belong to that generation that was taught revolutionary skills in Khadafi's training camps in Libya. What's your take on armed resistance?
Ousmane ag Mossa: "Well, we're living in different times now. At the time when the members of Tinariwen were staying in those Libyan camps, there wasn't much other choice than to take up arms. Tamikrest is about music, though. Personally, I'd like nothing more than to get my lawyer's degree. There have been several rebellions in the past, but on the ground nothing much has changed. Instead of continuing this often futile armed struggle, we now have to shift focus and express ourselves on the political front as well."
Kidal is one of the Tuareg regions where a peace treaty was signed (The Algiers Peace Agreements, 2006, red.). Has that changed much?
Ousmane ag Mossa: "Even if it has changed anything, the results are barely visible. No, in reality everything has remained the way it was; the unemployment rate is still enormous and, even though promises were made, it's only a small minority who benefit."
What would you personally like to see changing?
Ousmane ag Mossa: "There are so many things that have to change that it's difficult to choose one thing to start with. Something quite important is the establishment of a schooling project for the Tuareg who still live a nomadic lifestyle. The government has created basic schools in various oases in the desert, but for nomads who have to move around with their herds in search of fresh grass, that doesn't really offer a solution. I was lucky enough to be able to go to a non-governmental private school (in Tin Zaouaten, mainly funded by the Aratane N'Adrar N'Iforas or Les Enfants de l'Adrar des Iforas organisation, red.). It was a boarding school where the children of the Tuareg nomads could stay for the duration of term. As I said, there's still so much to be done that we could sit here all day talking about it! (laughs)"