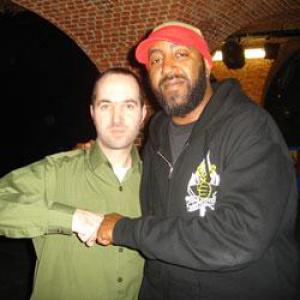 Tommy, how on earth does an Ethiopian immigrant living in the US end up playing bass in an anarcho-punk-Balkan band like Gogol Bordello?
Tommy T: "(laughs) That's the beauty of music, isn't it? It brings people together, regardless of where they're from. I've been in the music industry for quite some time and at the time it just happened Gogol Bordello was looking for a bass player. From the very first moment we played together it was like a match made in heaven."
Gogol Bordello's music is at least in part influenced by folk and gipsy music from the Balkans. What's your take on that genre of music?
Tommy T: "Well, first of all, to me music is my life, and although I wasn't that familiar with gipsy music before I joined Gogol Bordello, growing up in an Ethiopia that was still under communist Derg rule (The Derg or Dergue was a communist military junta that came to power in Ethiopia following the ousting of Haile Selassie I. Derg, which means "committee" or "council" in Ge'ez, is the short name of the Coordinating Committee of the Armed Forces, Police, and Territorial Army, a committee of military officers which ruled the country from 1974 until 1987, red.), I had some notions of the music, as we were in close relationship with other communist countries like the former U.S.S.R. and Cuba. To me, good music is just good music. Gogol Bordello was just looking for a bass player that could groove and bring the low frequencies into the musical equation and I quickly learned my way in and out the Balkan and gipsy vibes."
When did you first start considering doing your own solo project?
Tommy T: "That's been in my head for years! Apart from the Ethiopiques series, I felt the world still knew very little about Ethiopian music. The music in that collection, as great as it is, all dates back to the sixties and seventies. Me being a big fan of dub, reggae and funk, I've always wanted to make a record that also reflected this side of me and as I've played bass for almost every Ethiopian artist out there, I wanted to put the two worlds together. I already had a general idea of what I wanted to do in my head when I joined Gogol Bordello and going on tour with them and hearing all these other hybrid mixes of music all over the world, I decided the time had come to move this project forward."
As you just mentioned, compared to music from other parts in Africa, Ethiopian music is still virtually unexplored territory. Why is that?
Tommy T: "I think a lot has to do with access to that music. For a long time Ethiopia was under a communist regime and it's only since 1991 (In May 1991, Ethiopian People's Revolutionary Democratic Front forces advanced on Addis Ababa and the Soviet Union did not intervene to save the government side. Mengistu fled the country to asylum in Zimbabwe. The Transitional Government of Ethiopia, composed of an 87-member Council of Representatives and guided by a national charter that functioned as a transitional constitution, was set up, red.) that things have changed and the country has started to open up. Musically there's a huge movement in Ethiopia right now; the problem is that production-wise it's all too often still not up to western standards. A lot of the artists from West-African countries like Mali or Congo have access to well-equipped studios. A lot of that music is actually recorded in studios in France and Belgium. In Ethiopia we still have a lot of catching up to do what that's concerned, because a lot of great music that's coming out of Ethiopia now, because of the production and instrumentation they use sounds like it was done in the eighties. Part of my inspiration to do the 'The Prester John Sessions' album was that I wanted to put out some Ethiopian music that did reach western production standards."
You called the album 'The Prester John Sessions'. From a European point of view, Prester John was this mythical Christian king said to have a kingdom in Africa, but what's the take on this story in Ethiopia?
Tommy T: "Well, the thing is that in the West he's always been portrayed as this mystical king, but if you look a the time when this legend started, which was around the eleventh and twelfth century, the age of the crusades, in Ethiopia we had the rule of the Zagwe dynasty. The name Prester John is almost like saying John Doe; they didn't know the exact name of this Christian king they were looking for, so they said let's call him Prester John. I believe the name was derived from the word presbyter, meaning priest. My idea behind using the name for the album was that just like back in the Middle Ages when the Europeans were interested in discovering this powerful and wealthy African king, these days they are looking towards Ethiopian culture and music, so I took the persona of Prester John to present these treasures to the rest of the world."
Most of the songs contain references to various aspects of Ethiopian culture. Is the way in which we view Ethiopia in the West still far too stereotypical?
Tommy T: "Well, it's much better in Europe than it is in the US, because Europeans are usually well-travelled and have a broad world view. Unfortunately a lot of people will still only link Ethiopia with the images of the big drought and starvation back in 1984 and the whole 'We Are The World' thing and so on. Ethiopia is still one of the poorest countries in the world, but it's way more than that; our culture is incredible and Ethiopian music is both original and ingenious in the elements it combines. We're also a very diverse people, with more than eighty different languages being spoken in Ethiopia and easily as many tribes. Historically, Ethiopia has an incredibly long and fascinating history. It's very important to me that people start viewing this country in a more positive light and the easiest way for me to do this is through my music. A lot of the music on the album is instrumental, so I made sure the story I wanted to tell was well-illustrated by the titles of the tracks."
In the lyrics on the album you use an old Ethiopian technique called sem ena worq or gold and wax.
Tommy T: "It's a very old cultural way of communicating that still exists but is not as often used anymore as it once was. Basically, it means saying things by using the so-called double entendre or double meaning. The sem or wax is the meaning you would get right away when you hear something, but when you listen more closely you will also discover the worq or gold; the hidden message. Let's take the song 'Tribute To A King' as an example. The melody is based on a song by the late great Tilahun Gessesse (Tilahun Gessesse, September 29, 1940-April 19, 2009, nicknamed "The Voice", was an Ethiopian singer regarded as one of the most popular of his country's "Golden Age" in the 1960s, red.), who passed away last year. The song was meant as a tribute to him, hence the title 'Tribute To A King', but at the same time he used to be part of the Imperial Bodyguard Orchestra in the service of the Emperor of Ethiopia, so also literally paying tribute to the king."
With all the dub and reggae influences in your music and listening to that music, you must have come across the whole Rastafarian philosophy. What is your take on that?
Tommy T: "To me Haile Selassie was just another Ethiopian emperor; I've never looked at him as being a prophet or what not. For the Rastafarians, he's also an inspiration to overcome oppression and push forward, so I can't really hate that. Whatever individual you want to look up to for inspiration, if that helps you to realise your goals and forward in a positive way, please do not hesitate."