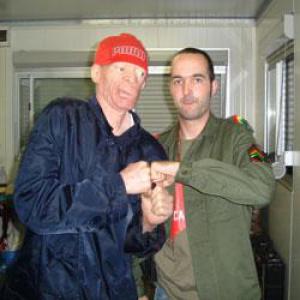 Blessings King Yellowman! You just played the Reggae Geel festival. "Geel" means "yellow" in Dutch, so one might call this some sort of homecoming.
Yellowman: "Yeah, it was very special and the crowd was very warm and welcoming. The people received me with nuff respect, so it's very nice to be back in Belgium."
You're one of the many famous old-alumni of the Alpha Boys School, that now legendary institution in Jamaica.
Yellowman: "Yes sir!"
What lasting heritage did your education there leave you with?
Yellowman: "It gave me a lot of talent and respect as well as energy and life spirit. I remember my time at Alpha as a great period in my life. I used to play in their soccer team too you know. I really thank Jah for sending me there and bless Sister Ignatius (Sister Mary Ignatius Davies, 1921 - 2003, inspired and devoted herself to the music program of the school and organising soundsystem nights during the weekends, red.) and Sister Aloysius (Mother Mary Winifred Aloysius Furlong, long-time mother superior of the Sisters of Mercy nuns at Alpha Boys School, red.). It was probably one of the best times in my life."
Apart from as 'King Yellowman', you're also known as 'King of the Dancehall' and you were never shy of a little slackness - be it always with a tongue-in-cheek approach - in your songs. How do you regard the hardcore dancehall that is ruling Jamaica today?
Yellowman: "Lyrically I don't like it much, but musically it's alright. Lyrically today's dancehall has nothing to do anymore with what we used to call dancehall back in the days. There's no message in these songs anymore, just gangster attitude."
Being albino, you grew up as a white-looking black man. How do we have to imagine that situation in Jamaica?
Yellowman: "Growing up with this skin colour in Jamaica was very hard. My peers regarded me as being white. In the end it didn't matter to me anymore, as it only strengthened me in my aversion of discrimination and racism. I don't like divisions; everybody should be treated on the same level. No matter if you're black, yellow or white, Jew, Muslim or Christian, we're all Jah children! I consider everyone on the same level; one nation under God."
On stage I heard you call upon the name of Rastafari a couple of times. What does Rastafari represent to you?
Yellowman: "Rastafari means unity and oneness of people. It doesn't matter who you are, because you have Rastafarians in all nations now. Rastafari can mean a lot; it means being a rebel as well, because we are warriors of Jah."
For the longest time your loyal sidekick on stage and on record was Fathead. How do you remember him?
Yellowman: "Fathead was a good friend and he was my deejay partner for many years. Sadly he passed away (Fathead, born Vernon Reid, was murdered and died of a gunshot wound in 1988, red.), but he's a big part of my singing career and I'm really thankful for that."
Production-wise I think we can say Henry 'Junjo' Lawes must have been one of the most influential producers you worked with?
Yellowman: "Well yes, Junjo is a big part of my career too. I loved him and I respected him a lot. I'm grateful and thankful to Almighty God for sending me over to Junjo's and giving me talent and strength."
To end this interview, how would you describe Yellowman in just a few words?
Yellowman: "I am a man of the people and for the people. It doesn't matter to me who or what someone is, I respect and honour every person. I am here for a purpose: one love, one heart, one destiny! Respect! Rastafari!"