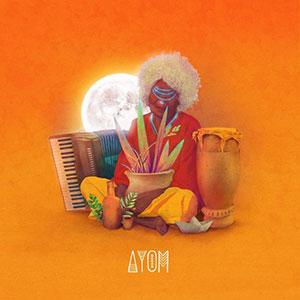 Formed in Barcelona back in 2018, the six-piece Ayom, a band with members from Angola, Brazil, Greece and Italy, presents its full-length debut with this self-titled album, recorded during a two-week recording session at the estate of a Portuguese wine farmer.
The band's name refers to the orisha of music in Brazilian candomblé (Ayom is said to be a Portuguese corruption of Ayan from the Yoruba tradition), one of the passions of vocalist/percussionist and front woman Jabu Morales (in opener 'Exú', the orisha of communication and language, acting as a messenger between people and deities, percussionist Timoteo Grignani plays the zabumba, an Afro-Brazilian drum, which, combined with Jabu Morales' voice, gives the song the vibe of a real candomblé ceremony).
Ayom's sound stretches from Angola, over Cape Verde to Brazil and incorporates influences from genres like funana, carimbo ('Cravo É Menta'), cumbia, baião, semba ('A Maré E O Luar'), coladeira ('Me Deixe Ser') and even some beguine from the French Antilles in 'Ayom Manifesto', with artists like Brazilian percussionist and vocalist Jackson do Pandeiro, Brazilian veteran Dona Onete and Cape Verdean diva Cesaria Evora or Angolan icon Bonga never far away.
A typically Mediterranean accent is added in the form of Alberto Becucci's accordion, making songs like 'Cravo E Menta' and 'Me Deixe Ser' reminiscent of the repertoire of "Lambada" band Kaoma. Elsewhere, Morales' voice shows strong similarities to that of Lilian Vieira of Dutch band Zuco 103 ('Cachaça E Macarrão', referring to Brazilian rum and Italian macaroni or spaghetti, and the story of the passion between a Brazilian and an Italian, 'Baila Das Catitas').
Even though most songs on 'Ayom' are in Portuguese, in some tracks Jabu also uses Spanish, Yoruba, Kimbundu and French Creole.
With this debut effort, Ayom created a gem of an album, thus last minute completing our list of absolute must-haves for 2020!