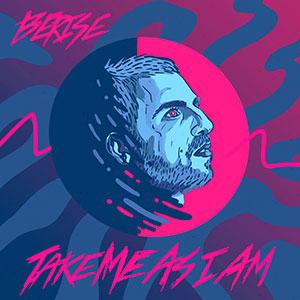 Just a few months after we got to know Shanti Powa front man Berise thanks to his collaboration with Wicked and Bonny, the man is now presenting a solo album of his own. 'Take Me As I Am' is the result of a collaboration with Scottish producer Escape Roots.
Both artists met somewhere in the Italian Alps in February of this year, where they started working on new songs. Berise then traveled to Glasgow to record the vocals and the resulting six tracks stylistically range from new roots over dancehall to trap. Finally, the album was mastered by Guido Craveiro, among others, the regular sound engineer for Seeed and Gentleman.
Icing on the cake are five additional remixes by Numa Crew (Florence), Vandal (Bristol), Pitch Madattack (Bozen, South Tyrol), Escape Roots and Nesuno.
'Take Me As I Am' opens dubby with the excellent title track over a sedate melodica-driven riddim, but with 'Magic Tracks' Berise immediately goes trap, and just as easily switches to UK steppers meets samba for 'Hard Drugs', in which he fulminates against the use of hard drugs like cocaine. 'Martin' tells the story of a refugee who arrives in Italy, finds a wife and a job, but eventually loses everything, and 'Roadblock' is aimed at the haters who keep trying to thwart him and friends who've let him down: "Sick of the lies, haters goodbye, just gimme the mic, kill dem with my rhymes...".
Berise concludes with 'We Di Familia', an ode to the (Italian) reggae scene and, with a guest contribution from XL Mad, making it the only combination tune in the track list. The remix of the song by Nesuno is pure techno, so feel free to use the skip button here. The same goes for the Vandal remix of 'Magic Tricks', but Escape Roots' 'Take Me As I Dub' is a worthy closing track.
Even if we don't always agree with Berise's stylistic choices, the man clearly has skills and, on this album, effortlessly drags Italian reggae into the twenty-first century. As he states in the album title, "Take me as I am!", so take it or leave it!