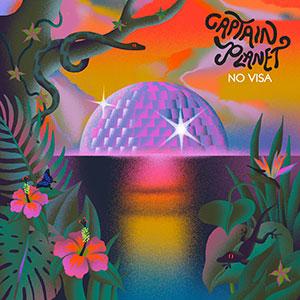 'No Visa' finally introduced us to the musical universe of Captain Planet, an ecological superhero in the 1990s animated series 'Captain Planet and the Planeteers', but here the alter ego of New York producer, radio presenter and founder of the popular music blog Mixtaperiot.com, Charlie Wilder.
Except for four instrumental tracks (the dreamy opener 'Fireflies & Palm Wine', riding on a mix of jungle sounds, kalimba and beats, 'Patty Cake', 'Ghost Dance' and closing track 'New Story'), Captain Planet invited a vocal guest for each track on 'No Visa'. Sometimes, names like Chico Mann or the Sudanese Alsarah (known for her work with The Nubatones) will sound familiar to fans of Planet's work, but on this album Wilder mainly expanded his list of musical contacts, taking us on a virtual music trip around the world with stops in Brazil (the baile funk of Zuzuka Ponderosa in 'Mi Poni'), Jamaica ('Fly Where You Want', an excellent reggae tune with Jesse Royal on vocals), Zimbabwe (the balafon meets 808 bass and vocals by Shungudzo of 'Big Man'), South Africa, where Kongo Elektro and Thornato blend elements from Ghanaian highlife, Nigerian afrobeat, Congolese soukous and Afro-house into an irresistible mix with 'Body Yako', or Ongx & Epplesauce, who create a contagious Afro-house groove in 'Makubenjalo' (Zulu for "let it be"), ending up in the Syrian capital Damascus (KarenBe in 'Yalla') via Sudan (Alsarah in 'Ghazal').
May one thing be absolutely clear: 'No Visa' definitely didn't steal its title!