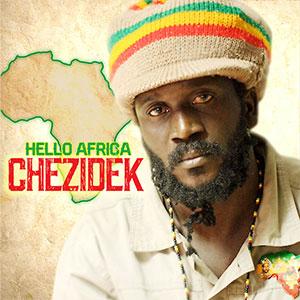 COVID-19 pandemic or not, if there's one reggae artist who hasn't despaired this year, it has to be Chezidek, as with 'Hello Africa' he's already presenting his second long-time player in less than six months.
If predecessor 'Timeless' was still a collaboration with French band The Ligerians, then 'Hello Africa', released on his own Cheziberry Records label and distributed by Tad's Record, is an entirely Jamaican affair for which he collaborated with Jamaican heavyweights like bassist Earl 'Flabba' Holt, keyboard player Robbie Lyn and Firehouse Crew drummer George Miller.
Earlier this year, the release was preceded by singles 'Because I'm Black' (not a cover of Syl Johnson's 'Is It Because I'm Black', immortalized by Ken Boothe, but a song recorded a few years back that never got an official release) and 'March', two militant songs that could perfectly serve as a soundtrack to the worldwide protests of the Black Lives Matter movement: "The inspiration has been the black struggle in America, the struggle in China after COVID-19 and how they were treating black people, and even the struggle in places like Morocco, where they treat Africans different from how they treat Europeans and Arabs.".
Talking about COVID-19, with 'Standstill', Chezidek perfectly captures the feeling many artists and their fans surely have been experiencing these past months. The rest of the album is of the same order and Chezidek considers 'Hello Africa' to be his most militant work so far: "'Hello Africa' is a protest album. It contains message songs and hymns that will be useful and necessary along the journey because music motivates and inspires!".
The album was presented in Jamaica on July 23rd of this year, not coincidentally the birthday of His Imperial Majesty Haile Selassie, and with songs like 'Never Run Away From Jah' and certainly 'Inna Dem Eye', the track list also contains a few odes to the Ethiopian emperor.
Just the once Chezidek revamped a classic riddim, as for 'Unite' he recycled the Freedom Blues riddim. Chezidek's personal favorite from the track list is 'Try Again', a song centered around the philosophy: "If you fall, get up and try again!", but we're sticking with the aforementioned ode to Haile Selassie and Rastafari 'Inna Dem Eye' and the personal opener 'My Life'.
Another rock-solid long player by this seasoned Jamaican artist who seems to have found a second breath.