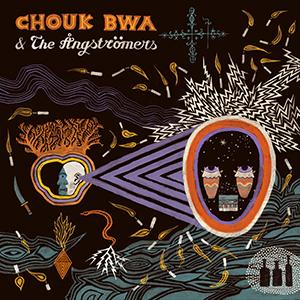 When we first got to know the seven-piece Haitian Gonaïves based standard-bearers of the so-called mizik rasin (a subgenre of traditional vodou music incorporating elements from Haitian folklore and rock 'n' roll) back in 2015, they were still called Chouk Bwa Libète. But for this collaboration with The Ångströmers, the band name was shortened to Chouk Bwa (loosely translated: "root" or "trunk").
A name like The Ångströmers might suggest a Scandinavians background, but it's just the alias of Nicolas 'Ripit' Esterle and Frederic Alstadt, a Brussels based producer duo that likes to experiment with electronic music.
Nicolas and Frederic initially got to know the members of Chouk Bwa thanks to an introduction by Belgian musician and manager Michel Wolteche on the occasion of a concert at the Brussels Ancienne Belgique in 2016. Intrigued by the music and culture the Haitian band propagated with great passion, The Ångströmers decided to head to Haiti themselves in order to explore vodou culture further and play a joint concert at the Institut Français in the capital Port-Au-Prince. In 2018 the members of Chouk Bwa then flew back to Brussels to record this album.
As a foretaste, in 2019 Chouk Bwa & The Ångströmers already presented the single 'Electric Mambo', a song the collective described as: "...future-leaning vodou dub... where rituals of the future can be heard leaking into the precisions of the past", and now there's this 9-track 'Vodou Alé', a long-player fusing Chouk Bwa's Afro-Caribbean polyrhythms with the dubby electronics of The Ångströmers.
'Move Tan', the album's first single, is a tribute to the victims of the numerous hurricanes (Jeanne, Denis, Sandy and Matthew) that plagued the island in recent years and the catastrophic earthquake that hit Haiti in 2010. A lot more energetic is 'Odjay - Nati Kongo', based on the fast Ka Djouk rhythm. 'Rårå' takes us on a psychedelic trip and 'Sali Lento' may translate as "go slow", it's a nice example of call and response singing, apart from Chouk Bwa front man Jean Claude 'Sambaton' Dorvil's voice, also featuring those of Edèle Joseph and Maloune Prévaly. The hypnotic 'Kay Marasa Dub' is another trance inducing instrumental, while in the slow intimate 'Peleren' it's Jean Claude Dorvil's voice that takes center stage again. We conclude with 'Negriye' and 'Fidelite', two rather traditional songs with Chouk Bwa's typical vodou drum rhythms in the leading role.
Enchanting traditional-modern vodou trance!