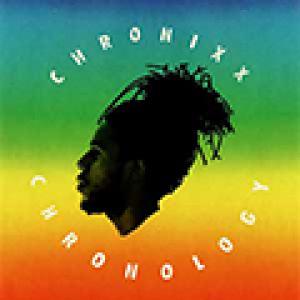 'Chronology', Chronixx' long player debut which can best be described as "the most anticipated reggae release of 2017", is finally here! But is Jamar McNaughton able to live up to expectations? Where yours truly is concerned, the answer is a resounding: "Of course!". Song like 'Majesty', over the riddim of Otis Gayle's Studio One classic 'I'll Be Around' (also known from Johnny Osbourne's 'We Need Love', but from an original by The Spinners), and opener 'Spanish Town Rockin'', were already released as singles, giving them a familiar feel. With that first song, Chronixx serenades womanhood, and stresses love is of much greater importance than lust, with the two not even necessarily having to go hand in hand. In 'Spanish Town Rockin'', Chronixx highlights his Spanish Town roots.
Bold move: the only guest on 'Chronology' is Chronical, Chronixx' father, whose voice in 'Big Bad Sound' resembles that of Barrington Levy. But the attentive listener will actually still spot a second guest, as in the intro and outro of 'I Can', a poppy tune that could have become the presidential anthem of Barack Obama, but wasn't immediately our favorite track on 'Chronology', we hear none other than Peter Tosh reciting from Psalm 121. In 'Ghetto Paradise', Chronixx explains that Jamaica is not the island paradise it's often made out to be, but with 'Smile Jamaica', a song over Silly Walks Discotheque's Honey Pot riddim in which he compares Jamaica to an attractive woman, Chronixx immediately delivers the antipode to the aforementioned track. For 'Country Boy', Chronixx recycled the Give I Strength riddim (Garnet Silk). 'Likes', with Chronixx singing: "Me do it fi di love, mi no do it fi di likes!", is about the excessive impact social media has on our lives, but in that same song, the singer also shares the names of a number of artists, musicians and producers he "likes". 'Selassie Children' perfectly summarizes what it means to be Rasta, and 'Black Is Beautiful', in which he both criticizes the stereotyping of "all things black" as praises "black beauty", simply has to be featured on the soundtrack to the second season of 'Dear White People' (if you haven't seen the series yet, check it out!).
The catchy party starter 'Skanking Sweet', we already saw Chronixx perform live on 'Later... with Jools Holland', and is on its way to become a serious hit. At the end of the soulful 'Tell Me Now' - message: let your loved ones know you care about them before it's too late - for a fraction of a second Chronixx reminded us of Marvin Gaye! In the touching 'Legend', in which Chronixx seems to put his own spin on the Jewish saying: "He who saves one life, saves the world!", he puts the common man, those who remain in the shade but actually are the real heroes, in the spotlight. The message of 'Christina' is similar, as in this song Chronixx tries to convince a certain Christina of the fact that despite his rise to fame, he's still an ordinary guy. 'Chronology' might not be for reggae purists, as the songs on this album are as diverse its rainbow-colored cover, but perfectly reflect the versatile personality of this young reggae god!