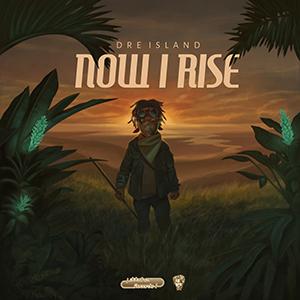 As one of the last exponents of Jamaica's so-called reggae revival generation to do so, Dre Island is now finally also dropping a first long-player for which he joined forces with Jamaican Kingston Hills Entertainment and American DubShot Records, as well as reggae and dancehall producers like Jam2, Anju Blaxx, Teetimus, Winta James, Dretegs Music and Barkley Productions.
Island patiently awaited his moment, but album title 'Now I Rise' leaves no room for doubt: "This album speaks of arising, growth, new beginnings and emerging from the ashes. At this time, these are all the things we need based on what is happening right now. The truth is, since 2015 I have been advertising that the album is coming. It has been five years and the time is right. As an artist and person Dre Island move different. I embrace Rasta and this way of life, but I am not part of any group like Boboshanti or Twelve Tribes. Everything I do is inspired by the father. I am moved to drop this album at this time because I am divinely inspired to do so. When you look at a song like 'We Pray', I can take no credit for a song like that. Yes, I wrote the lyrics and built the rhythm and I voice the track, but it's a prayer, not just a song so how a man fi tek credit for something that come from above!".
The track list features an eclectic mix of reggae and dancehall with influences from r&b, hip-hop, gospel and blues, including previously released singles like 'We Pray', a duet with Popcaan, 'My City' or 'Be Okay', a combination tune with Jesse Royal (and on the Deluxe Edition also the recently released 'Justice' featuring Wyclef Jean). This album is certainly not for the reggae purists among you, and in all honesty, we have to admit Dre didn't manage to hold our attention for 13 tracks (if you opt for the Deluxe Edition even 17), but tunes like militant opener 'Kingdom', stylistically somewhat reminiscent of Kabaka Pyramid's sound, and title track 'Now I Rise', which is in the same vein, come highly recommend.
However, in places the album does draw quite heavily on r&b, and at the very end of the introspective 'My City', Dre even throws in a fragment from R. Kelly's 'Been Around The World'.
The Winta James produced 'Never Run Dry', over a revamp of the Cuss Cuss riddim, is certainly one of the absolute highlights of the track list, and for 'Days Of Stone', a combination with Chronixx, for which a part of the horn arrangement of 'Money Money' was sampled, another classic was put through the mangle.
No reggae, but successful disco-funk we get with the Teetimus production 'Four Seasons'. After that Island, apart from closing track 'Still Remain', featuring nyahbinghi percussion, mostly goes r&b and we lost our focus.
Long-player debut that left us somewhat undecided, but at no time puts Dre Island's capacities in question.