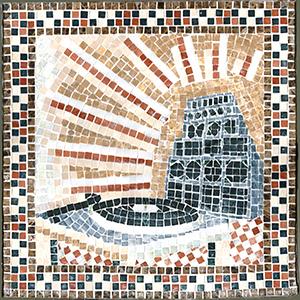 Almost four years after the release of 'Holy Cow', family project Dub Dynasty is back with 'Gideon', a title referring to the current geopolitical situation and the threat of the climate crisis.
In the track list 10 vocal cuts and as much dubs in pure UK steppers style. For the vocal part Ben Alpha, Christine Woodbridge and John Sprosen once again called on a whole range of guest vocalists, including meanwhile familiar faces like Ras Tinny & Cian Finn, Fikir Amlak, Kologne, Nish Wadada, Nai-Jah and Joe Pilgrim, but also a host of names that did not immediately ring a bell (Wellette Seyon, featured in 'Black Woman Civilization' and described by Ben Alpha as: "An incredibly talented and very exclusive artist from the US living in Africa.", Paris based Yehoud-I, featured in 'Likkle Zion', a song produced in its original version by Simon Nyabin & Odessa and already released back in 2012 on Vibescreator Records, Earlyman from Devon in the UK, or Setondji, a London based French artist of Benin origin, featured together with his brother Joe Pilgrim and Nai-Jah in 'False Profit').
'Gideon' is what in professional jargon is called a "creeper", an album that sounds better every time you play it. At first we mainly heard rather monotonous UK steppers tunes, but after a few listening sessions we allowed ourselves to drift away.
Our favorite tracks: 'Care For The People' featuring Kologne, 'Ye Beb', Amharic for "our father" by Ras Hassen Ti, Earlyman's 'All The While', 'False Profit', a word play with 'profit' and 'prophet' and three the hard way by Nai-Jah, Joe Pilgrim and Setondji, 'Likkle Zion' featuring Yehoud-I, and finally a special mention for Joseph Lalibela who with: "Religions are all just fingers on the hands of Jah!" signed for the most original lyric in 'Jah Fingers'.
If the Armageddon is unavoidable, then 'Gideon' may serve as our ideal soundtrack!