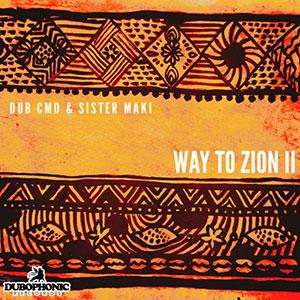 The title of 'Way To Zion I', the collaborative project of Polish producer Gabriel Ufir aka dub_cmd, based near Hull in the UK, and Osaka's Sister Maki, already promised a sequel, and long we didn't have to wait, as the duo already returns with 'Way To Zion II'.
This time counting two dubs, one instrumental and three vocal cuts, with 'Jah Love', a song over a delicious melodica-riddim in which Sister Maki alternates between Japanese and English again, standing out as the absolute highlight. The duo must have picked up on this as well, as the track list also includes a dub version and even a bonus instrumental of the song.
Just as was the case with Francis Ford Coppola's 'The Godfather', with the second part of this diptych, the duo definitely improved on the first. It's all about learning by doing!