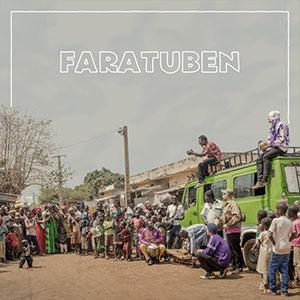 Faratuben is the collaboration between Danish musicians Mikas Bøgh Olesen (guitar and keyboards), Jakob de Place (drums) and Mads Voxen (keyboards), and Malian guitarist and studio performer Dieudonne Keita, vocalist Sury Dao and balafon virtuoso Kassim Keita.
The Danes originally arrived in Mali thanks to an exchange program of CAMM (Conservatoire des Arts et Métiers Multimédia Balla Fasséké Kouyaté in Bamako), introducing them to the music culture of the Bwa, a people from central Burkina Faso and southeastern Mali.
Unlike that of many other ethnicities in Mali, in which stringed instruments like the kora or the ngoni often predominate, the music of the Bwa is very percussive and exhilarating in nature. In any case, Mikas, Jakob and Mads were immediately sold, and with Dieudonne, Sory and Kassim initially formed the Bobo Jazz Experience formation, a one-off project originally only intended to perform at the Bamako Jazz Festival. However, the reactions to that one-off concert proved so overwhelming, that the six decided to continue their collaboration, taking to Bamako's Bogolan Studio to record the songs 'Terete' and 'Pari', two singles that soon started receiving a lot of media attention in Mali.
Meanwhile, the band decided to change their name to Faratuben, a contraction of farafin (Bambara for "black person") and toubabou (Mandé or Wolof for "white person"). The band then moved to Kati, a small village in the mountains just outside of Bamako and the birthplace of the Keita family, where they continued to work on new songs.
The result is 'Sira Kura' ("new direction" in Bambara), an album keyboardist Mikas describes as: "A modern mix of 10cc and Osibisa!".
Faratuben's music may sound infectious and very danceable, that doesn't mean the band members are only interested in partying and dancing. 'Mi Njan Mure', for example, talks of the period when Mali was still a French colony, and the band members see themselves as a musical statement against racism, or as Dieudonne puts it: "I never thought I could meet white people on an equal footing and see them sharing my house and living with my family. That is still a very rare occurrence in Mali and we're very happy and proud that through Faratuben we can show it's possible to create a community beyond race and color.".
Great words perfectly capturing the spirit of one of the best African productions we had the pleasure listening to this year!