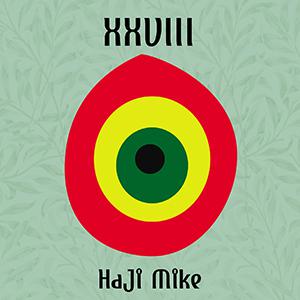 Exactly twenty-eight years ago, Cypriot Haji Mike took his first steps in the music business with the release of his first 12inch 'As'ta /Modern Day Mankas' (Kebab Kulture Music, 1990). Back then Haji's sound was still a mix of hip-hop, ragga and Greek Cypriot instrumentation, but meanwhile it's somewhere between reggae and dub poetry. For 'XXVIII' Mike joined forces with Cypriot producer Med Dred and for 'Only Jah Can Judge Me' the duo even called on legendary Jamaican hornsmen Dean Fraser and the late Nambo Robinson. 'XXVIII' is a celebration of Haji Mike's twenty-eight year musical career, but also of the lives of Haji's parents - we challenge you to keep it dry listening to 'Daddy' and 'Mama' (in the latter song, for which he also switches to Greek, Haji tells of hardships his mother faced working her fingers to the bone as a seamstress) or victims of (right-wing) repression like Pavel Haas, Gideon Klein, Adolf Reichwein, Walter Benjamin, Eddy Hamel, Judith Auer, Elisabeth von Thadden, Edith Stein, Leon Trotski, Che Guevara, Grigoris Lambrakis, Victor Jara, Patrice Lumumba, Blair Peach, Michael Smith and Stephen Biko ('No Nazi', which at the same time serves as an ode to anti-fascist Greek rapper Pavlos Fyssas aka Killah P, who was murdered in 2017 by a member of the right-wing extremist Golden Dawn). Don't worry, all those names didn't ring a bell with yours truly either, but for those among interested in broadening their scope on history, Wikipedia is the ideal tool and in this case it certainly pays off! 'Pipe Of Peace', an ode to freedom and a call to unity, is in turn dedicated to Serge Gainsbourg. The album concludes with three dubs by Med Dred, but firs there's still the excellent 'The 10 Commandments Of Dub', a title of course evoking memories of Jah Shaka's 'Commandments Of Dub' series, and in which, in analogy with the Decalogue or ten commandments from the Bible, Haji Mike lists the ten basic principles of dub; lyrics we gladly wanted to share with you:
"These are the 10 Commandments of Dub as observed and live through experience, reasoning and wisdom of I man, Haji Mike…
Commandment 1: Thou shalt always observe and respect the foundation nation Jamaica home and root of Dub, do not ever claim to have re-invented the wheel, no matter where you are from or where you are going cos that is a livin' lie. Respect the roots band traditions of the King's Music.
Commandment 2: Thou shalt not steal another man's dub plate! Because to do so is sacrilegious and tantamount to musical treason. Be an originator not an impersonator- be true to yourself, create, connect, innovate and do not use Shazam!
Commandment 3: The more the merrier, let there be Dub 7 days a week 365 days a year. Do not complain when events happen to be on the same days. We're all here to share the vibes and music and you should never refuse it - seen.
Commandment 4: Know how to use the machines don't let the machines use you. The machine is an extension of human creativity - controlled by innovation - do not let the machines do all the work because they will be in control.
Commandment 5: Talking of machines one is not to partake in auto tune vocals in the Dub Arena cos Dub is about the Ital, the diversity of sound, the versatility of sound and pushing the envelope to the max, it's not about everybody sounding like a chipmunk, Dub is deep, respeck that!
Commandment 6: Creators and speakers on the microphones, the MC's, the reasoners, are there to reason and engage with the people dem in constructive ways inspired by livity and respect for human dignity. Do not curse, cos who curse will be judged on judgment day as a curser!!!
Commandment 7: Whilst on the subject of MC's do not thief another man or woman's lyrics on the mic because lyrically creation is a craft and you have to graft, you have to sweat to get, find your voice, don't copy, find your voice, use it…
Commandment 8: Dub needs a sound system; it cannot play on no dibbi dibbi drum pan set up, that lacks the bass, mid, tops in all the frequencies. Dubs must be heard and felt like the heart beat bin your chest - boo-doom-boo-doom-boo-doom- because Dub is from creation a heartbeat that flows through the bones of all nations.
Commandment 9: Respect for the king always, salute the founding father of this music, the king of dub, King Tubby. It was not dubstep or Norman Cook or "dub by the book" or "dub by numbers" or any computer program who invented the sound - it was The King - and anyone who tells you otherwise tells lies.
Commandment 10: Each dub session is a special mission, as special place, where people gather in peace and harmony, come together and share the vibes for all the people and tribes. Dub is there to heal and feel, overcome all kinds of divisions and illusions; it's about the I-N-I-T-Y, the one love, the one dub, the one people.
Yes I, these were the 10 Commandments of Dub as observed and lived through the experience and reasoning and wisdom of I man, Haji Mike…"
The best and at the same time most accessible dub poetry album we've heard in years!