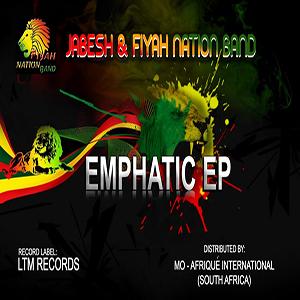 Fiyah Nation is a six-piece Belgian-Dutch backing band formed in 2009 after the break-up of Ziggi Recado's Renaissance Band. For this 5 track 'Emphatic' EP they now joined forces with Jabesh (loosely translated: "life of pain").
This vocalist was born on Sint Maarten and got his musical genes from his grandmother Amelia Wright. Jabesh grew up in Saint-Martin (the French-speaking part of Sint Maarten), but his mother also had the foresight to have the boy attend school in Jamaica, where he quickly got acquainted with the local reggae scene. Jabesh then traveled to Guadeloupe where he got his degree in sound engineering, and these days is based in Harwich in the UK.
The five tracks on 'Empathic' - 4 vocal cuts and a concluding dub/instrumental - clearly show the members of Fiyah Nation are all seasoned veterans. Opener 'I See Dem' is an excellent conscious tune in which Jabesh denounces the incessant brainwashing by western powers. Title 'Grand Bag' already reveals that this is a ganja tune, but ganja as a sacrament to honor the Most High, not as mere escapism. The most contagious tune on 'Emphatic' is without a doubt 'Wha Dem A Go Say', in which Jabesh states that hard work and perseverance always pay off and jealousy and envy lead to nothing, and with 'Chanting', an ode to Jah, the ultimate guide and protector in hostile Babylon, we hear Jabesh's voice one last time. As already mentioned, Fiyah Nation Band concludes with the instrumental 'Cool And Calm Dub', in which Eelco Kastermans aka Asher E's melodica, also responsible for the final mix of the tracks on 'Emphatic', got the leading role. Excellent EP, proving Jabesh and Fiyah Nation are a perfect fit and already making us crave more!