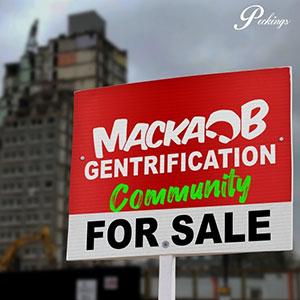 Five years after recording the excellent 'Never Played A 45' for Peckings - as far as yours truly is concerned, still an absolute highlight in the man's extensive discography - British veteran Macka B returns to the label for this 'Gentrification' EP.
The track list counts 7 songs, including a successful ska version of Macka's ital living anthem 'Cucumba' (a song that in its original version could already be found on the 2017 'Health Is Wealth' album) and two remixes of 'Never Played A 45', the title track from Macka's album of the same name for Peckings (the drum & bass version by DJ Jeph isn't bad, but we were more taken with the Hempolics Version, in which we thought recognizing the bass line from the Ras Michael & The Sons Of Negus classic 'None A Jah Jah Children').
As for the new tracks, we can't ignore title track 'Gentrification', in which Macka fulminates against the gentrification of Brixton and neighborhoods in other metropolises, forcing the less endowed original residents to make way for the expensive housing complexes of money-driven developers. Working with Peckings of course means having a chance to take your pick from their rich catalog of classic riddims, so we immediately recognized the riddim of Dennis Brown's 'Lightning And Thunder'. The riddim of 'Face To Face', a nostalgic throwback about the dance fashion in the "good old days" when things like twerking weren't invented yet, may not immediately ring a bell, as it's actually the more obscure 'Crime Don't Pay' by rocksteady trio The Kingstonians. 'Up Ye Mighty Race' is an inspiring slow roots track in which Macka B calls on the black race to claim their rightful place in society. Immediately recognizable is the melody of 'Call On Jah', as for this conscious song about the omnipresence of the Most High, Peckings used the riddim of Johnny Clarke's 'I'm Gonna Put It On' (which in turn was a Bunny 'Striker' Lee reworking of The Wailers' 'Put It On').
Macka B and Peckings remain a golden combination, and after hearing this 'Gentrification' EP we are already hoping for a second long player!