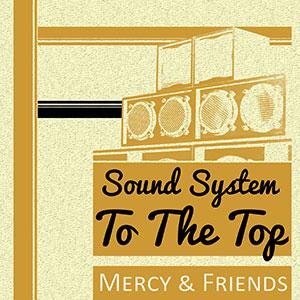 'Sound System To The Top' is a solo project by Mercy (Olivier Delbos), selector with Bhale Bacce Crew (Hindi for "dear children" or "good children"), a sound system collective from Chartres, in France.
In the track list, ten solid UK steppers compositions for which Mercy called on vocalists Baltimores, G-Rhyme General (Brigante Records), Sista Bethsabee, Daman, Jacko and Wisemani, and musicians like Elijah, Jeremy Turpin and Smerz (saxophone), Lo (flute), Alex RLB (trumpet) and Kingfly (melodica).
Even though all tracks on 'Sound System To The Top' can convince (the one exception perhaps being up-tempo closing track 'Straight To The Top' featuring Wisemani), the real gems are instrumental tracks like 'Fresh Melody', seeing flutist Lo marrying classical music with UK Steppers, 'Deep Horns', featuring a wonderful dialogue between Alex RLB's trumpet and Smerz' saxophone, or 'I Feel Good With Your Sax' with Jeremy Turpin's sax in the lead role (or if you prefer melodica, 'I Feel Bad Without Your Melodica', the version featuring Kingfly).
A special mention has to go to 'L'Envie Des Hommes', as for this song Mercy sampled Charlie Chaplin's famous speech from 'The Great Dictator' (having used the French overdubbed version, you'll hear the voice of Roger Carel), interspersed with a wonderful saxophone solo by Elijah.
Very enjoyable release, proving Mercy clearly knows where to put the right accents!