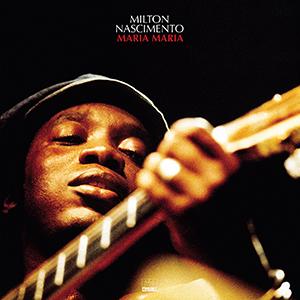 Far Out Recordings closes the year with a vinyl reissue of 'Maria Maria', the soundtrack Milton Nascimento wrote in 1976 for the ballet of the same name by Grupo Corpo, a contemporary dance company led by Argentine choreographer Oscar Ariaz, with the legacy of slavery in Brazil as its loaded topic.
The soundtrack, which together with 'Ultimo Trem', written by Nascimento in 1984 for another ballet, which was already released as a double-CD a first time in 2003, is now being released on vinyl by Far Out Recordings for the first time.
For 'Maria Maria' Milton collaborated with an impressive all-star cast of Brazilian music legends including Naná Vasconcelos (percussion and effects), Toninho Horta (guitar), Paulo Moura (saxophone), João Donato (keyboards and percussion), Paulinho Braga (drums), and the whole line-up of Som Imaginario (Frederyko - guitar/flute, Luiz Alves - bass, Robertinho Silva - drums, Tavito - guitar, Wagner Tiso - keyboards and Zé Rodrix - organ/flute/percussion).
About the music on 'Maria Maria', sometimes firmly soulful, often with Milton's heavenly falsetto in a leading role (even though the female voices of MPB star Fafá de Belém, samba singer Clementina de Jesus and Nana Caymmi, who together with Gilberto Gil gained popularity in the Brazilian tropicalia scene, can also be heard), elsewhere parlando (influenced by the French art cinema of the 1960s), and in songs like 'Lilia' or 'Trabalha', in which, respectively, a slave is flogged and African percussion and metal sounds represent the work rhythms of the slaves on the plantations, strongly evocative and raw, Nascimento himself commented: "I only began composing because of enjoying the movies so much, and I wrote the music for 'Maria Maria' in a tiny Rio apartment with friends and their kids running around and having fun! I love to be in noisy places, surrounded by people.".
'Maria Maria' is at the same time a time document, a benchmark in Nascimento's career and in time has become a timeless Brazilian gem!