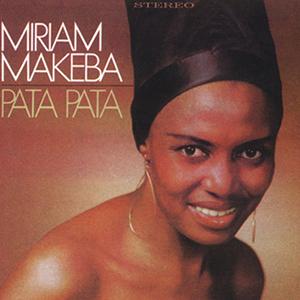 Some albums are so iconic that they need little introduction. Take 'Pata Pata' for example, the international breakthrough album of Mama Africa Miriam Makeba, originally released in 1966 on the American Reprise Records label, for which she was assisted by Harry Bellafonte, and which over the years has been re-released numerous times.
For this 'Pata Pata: Definitive Remastered Edition', Strut Records opted to include both the mono- and stereo versions of the songs in the track list, something that will please real audiophiles, but musically does not immediately provide an enormous added value.
The English songs on 'Pata Pata' ('What Is Love', 'Ring Bell, Ring Bell') after so many years sound a bit naive and outdated (read: still breathe the innocence of the flower power movement), but Makeba's songs in Xhosa have stood the test of time wonderfully well. An exception being the atmospheric 'West Wind', which was later covered by Nina Simone.
Title track 'Pata Pata' is engraved in collective music memory and actually dates back to 1956 when the singer was still a member of the South African women's band The Skylarks, as Miriam Makeba remembered in her memoirs: "I wrote 'Pata Pata' back in 1956, back in South Africa. It was a fun little song and I was thinking of a dance that we do at home ("pata" means "touch" in Zulu and Xhosa). However, the song was revamped by producer Jerry Ragovoy and that paid off: "It was my first truly big seller. All of a sudden, people who never knew I had been in America since 1959 were asking me to be on their television shows and play at their concert halls during 1967, and in the discotheques, they invented a new dance called the Pata Pata where couples dance apart and then reach out and touch each other!". 'Click Song Number One (Qongqothwane)' has also become a true classic, and definitely noteworthy is 'Yetentu Tizaleny', a cover of the song of the same name by Ethiopian superstar Tilahun Gessesse, which Makeba performed especially for the OAU (Organisation of African Unity, the predecessor of today's African Union) in Addis Abeba in attendance of emperor Haile Selassie.
Timeless masterpiece that not only confirms Makeba's status as Mama Africa, but is also part of the foundations of what we know today as "world music".