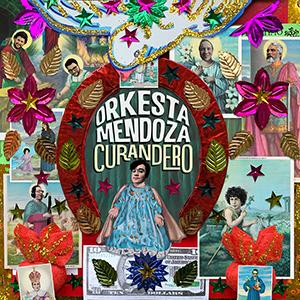 A more appropriate title than 'Curandero' (Spanish for healer or shaman) Sergio Mendoza could not have been imagined by for this new Orkesta Mendoza album being released in full COVID-19 crisis.
'Curandero' still features the American-Mexican frontera mix of Mexican cumbia, mambo, ranchero, Americana, rock and psychedelia ('Bora Bora', the only instrumental on the album, but immediately one of our favorites from the track list), but this album clearly sounds a bit more rocky than its predecessor '¡Vamos A Guarachar!'; something Mendoza clearly agrees with: "I'm definitely a rock-'n-roll fan, but it's in my DNA to have Mexican and South American styles in my music. In my head, though, Orkesta Mendoza is definitely a rock band.".
The boogaloo, a mixture of soul and Latin music, a style of music and dance that was popular in the nineteen sixties, with Joe Cuba seen as its founding father, was also a great source of inspiration this time: "Boogaloo has lyrics in English, Spanish and Spanglish. Joe Cuba mixed Latin rhythms, soul and r&b together and made something new. The r&b part was a real reference point for me, but the rhythm was obvious in the percussion and the handclaps".
Although initially not intended that way, 'Curandero' also became an album with an impressive guest list: "Originally it was going to be just the band, but it turned into our collaboration album! As we recorded, I kept hearing different voices for the tracks. I knew I wanted Nick, then Joey Burns of Calexico (Mendoza is a longtime member of the band) was just right for guitar and bass on 'No Te Esperaba' which also features Chetes from the legendary Mexican rock band Zurdok". For 'Boogaloo Arizona', Mendoza also invited Amaparo Sanchez, and in title track 'El Curandero' the voice of Jairo Zavala aka Depedro can be heard. Other guests are Brian Lopez, a befriended singer-songwriter from Tucson, Arizona (together with fellow townsman Charlie Moses in 'Are We Better Now?'), Raul Marques, another close friend, appearing together with Esther Valverde (singer with Spanish rock band Bye Bye Lullaby) in 'Me Dejo Llevar', Devotchka-front man Nick Urata with the melancholic cumbia 'Little Space', and finally Los Angeles based Guatemalan singer-songwriter Gaby Moreno, colleague and fellow townswomen Moira Smiley, and Texan Carrie Rodriguez in closing track 'Hoodoo Voodoo Queen'. With 'Head Above Water', Sergio Mendoza stayed close to home, as Orkesta Mendoza bass player Sean Rogers took care of the lion's share of the vocals, but the violin of Los Angeles based violinist Quetzal Guerrero, appearing in no less than four tracks on 'Curandero', is definitely the shining star in this track.
Another delightful long-player by our favorite mestizo orchestra on the US-Mexican border!