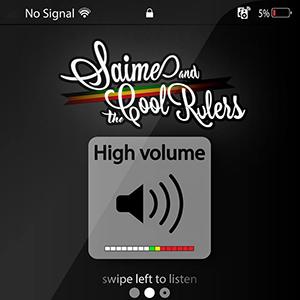 'High Volume' may be the first album Saime, born as Andrea Saitta in Enna, a town in central Sicily, has recorded with the aid of backing band The Cool Rulers, the man has already been active for quite some time.
In 2005, together with some good friends, he founded Enna Massive Sound, and a first long-player, 'Sicilia 4', followed that same year. However, after signing up for the talent show 'Yard d'Italia' in 2007 and winning with the song 'Nun M'abbasta', Saime started to focus on a solo career.
In 2011 Saime releases the aptly titled 'Just Me', his first solo effort, in 2013 followed by 'Ibrido'. But in 2015 Saime once again asks a number of familiar faces to join him, forming a backing band we now know as The Cool Rulers.
Bass player Carlo 'Kallo' Farrauto comes from the power pop and punk scene, multi-instrumentalist and drummer Alessandro 'Alek' Messina studied sound engineering at the London School of Sound and obtained a degree in Electronic Music from the Allessandro Scarlatti Conservatory in Palermo, where keyboardist Francesco Lanzino also graduated, and guitarist Simon Costa was previously active as one half of drum & bass duo Pisk & Moe (and on 'High Volume' also pops up as a vocal guest in the title track of the album). In 2017 a first single, 'Narcos', a ganja-tune and anti-hard drug statement for which Saime and The Cool Rulers used sound fragments from the eponymous success series on the life of Colombian drug lord Pablo Emilio Escobar Gaviria. The song also features in the track list of 'High Volume', an album that sees Saime alternating between English and Italian, and for which the singer also invited a lot of guest vocalists (Africa Unite-veteran Bunna in 'Oceans Of Blood', Sicilian band Shakalab in 'Straniero', Heavy Hammer Sound System and beat maker Gheesa in the intro of the album, and as already mentioned, guitarist Simon Costa aka Pisk in title track 'High Volume').
For the dancehall-flavored 'Anthem', Saime and The Cool Rulers recycled parts of Johnny Osbourne's 'No Ice Cream Sound', and in title track 'High Volume' some swing jazz influences can also be heard (Pisk is also an active member of electro-swing ensemble Swingrowers), but as a Sicilian you can't escape the daily reality of the ongoing refugee crisis on and around the Mediterranean Sea, a subject Saime and The Cool Rulers cover in 'Oceans Of Blood', the duet with Bunna, and 'Straniero', a combination tune with Shakalab, but most of all an incisive indictment of the political regime under Matteo Salvini, party leader of the extreme right-wing Lega Nord and Minister of the Interior until 2019: "Tu stai con Salvini, io con tutti il resto!" ("You support Salvini, I support the rest!").