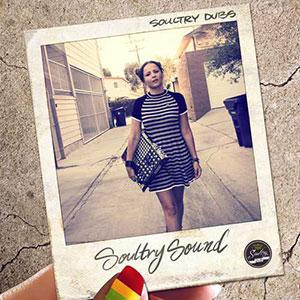 'Soultry Sound' is the production debut of Cynthya 'Soultry Dubs' from Long Beach, California, who started her musical career as a keyboard player with reggae soul band The Divine Crime. However, before she chose the musical path, Cynthya ran her own clothing line Soultry Clothing.
Soultry Dubs decided to start live dubbing, remixing and producing after she mastered the basics in the studio with Jamaican veteran Scientist and Stone Eye's Josh Cardinali.
For 'Soultry Sound' Cynthya compiled an all-female guest list: "It's been a dream of mine to unite a female driven, lyrically conscious work of heart and to highlight my love of dub music. I'm super proud to work with these amazing woman who I feel really embody what I consider a 'Soultry Sound' and to collaborate with my long time musical partner and producer Josh Cardinali of Stoney Eye Studios. I also wanted to highlight the art of dub by including remixes performed live on my APC40. Why dub? Because it exposes all the elements of a song, it breaks it down then puts it back together again. It gives the listener the opportunity to hear what a song is made of. It's Cosmic!".
Sign present: Australian Nattali Rize, Nattali's compatriot Mpress Kandace, Lion Child aka Amee Jana, an ex-The Divine Crime band mate of Soultry Dubs, Sistren Kim, a Hawaiian resident of Seattle, and Los Angeles-based singer-songwriter and yoga instructor Ashley Irae.
Apart from the 'Soul Rizing Intro' featuring Nattali Rize, the track list counts 5 vocal cuts and 7 dubs. In the poppy 'Divine Energy' featuring Lion Child just doesn't sound reggae enough, 'Heartbreaker', also featuring Lion Child, is excellent soul/r&b but again no reggae, and with a title like 'Age Of Aquarius' featuring Ashley Irae you just know you're in California. Tracks like opener 'Soul Journ' and 'Babylon Fyah', both featuring Ashley Irae and Sistren Kim on vocals could convince us, and the dubs (definitely check out '1111 Verb Dub') dan't disappoint either, and after all isn't that what Soultry Dubs is all about?
Sisters doing it for themselves and the rest of us of course!