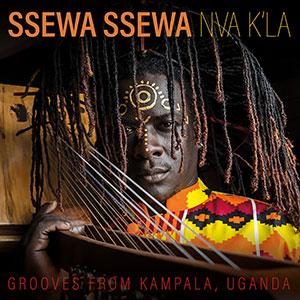 For Nihiloxica's 'Kaloli' we just travelled to Uganda, and that's also the homeland of Ssewakiryanga James Jr. aka Ssewa Ssewa, a multi-instrumentalist, singer-songwriter and the son of Ssewakiryanga James Sr., a traditional drummer, and Betty Namata, a professional dancer. Together, his parents founded the Tebifanana Abifuna Cultural Troupe, inadvertently sowing the seeds for Ssewa's current musical career.
Ssewa Ssewa's sound is a mix of Ugandan traditions with genres like reggae, soul, and with 'We Groove' even some Latin pop, in which the janzi often plays a central role.
Based on the traditional adungu, a Ugandan harp counting seven or ten strings, Ssewa's janzi has a double neck and counts a total of 22 strings, with one side tuned diatonically and the other pentatonically.
'Nva K'la', which translates from Luganda as "I am from Kampala", opens with 'Abalangila', a song that stylistically reminiscent of the oeuvre of South African superstar Johnny Clegg (see also 'Eddembe'), in which Ssewa denounces hypocrisy and backbiting. 'Abassese', on the other hand, is a Ugandan traditional of the Bassese, inhabitants of Kalangala the largest of the Ssese-islands on Lake Victoria, who often sing the song while fishing. Similar is 'Omulangila', a traditional Ugandan children's song. More universal themes like peace, joy and happiness can be found in tracks like 'Eddembe' and 'Egundde', while Ssewa becomes more personal in songs like 'Maama', 'Muwala' and 'Salimba', dedicated to his mother, daughter and great-grandfather. In the instrumental 'Engoma', Ssewa shows his skills on the traditional Ugandan engoma drum; apart from the aforementioned janzi, far from the only instrument Ssewa uses on 'Nva K'la', as in the 13 tracks on this album he can also be heard on the endongo (a Ugandan lyre), adungu, amadinda (Ugandan xylophone), the mbira and its Ugandan counterpart the akogo, the endingidi (Ugandan single-string violin), engalabi drums, and the Ugandan ensaasi shakers.
'Nva K'la' also features some vocal guests: in reggae love tune 'Mwagala' Ssewa Ssewa is joined by Jimmy Lubwama (reappearing in closing track 'We Groove'), and for 'Egundde' and 'Muwala' Ssewa joined forces with Solomon Kalungi Ssozi.
The cross-over character of 'Nva K'la' makes it an ideal introduction to Ugandan music culture.