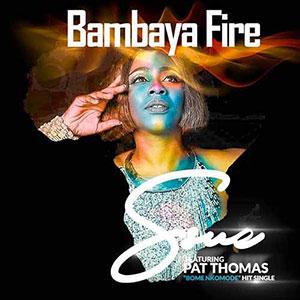 Mix highlife and afrobeat with r&b, (nu) soul and a pinch of jazz, and you get SSUE (born Serwah Susan Amoakohene).
SSUE was born in the US, but returned to Ghana with her parents at the age of four (even though she later earned a degree in marketing and finance from the University of Maryland). She tried her hand at several jobs, but never managed to shake the grip of the music virus, and after careful consideration decided to pursue her one true passion: "I have always known music to be my prime passion, but I wanted to fully convince myself that I was ready to devote the required attention to it.".
With 'Bambaya Fire' (referring to an eponymous dance from the north of Ghana, danced to the rhythm of fontofrom drums, which can also be heard in some of the songs in the track list), she now presents a first 6 track EP.
For the project SSUE collaborated with Ghanaian highlife veteran Pat Thomas, and was backed by the excellent nine-piece Ananse Band.
SSUE's music may be classified as Afro-pop, 'Bome Nkomode' (Akan for "words of consolation" or "words of hope"), the song SSUE recorded with Thomas, is an instant highlife classic. In the past SSUE still collaborated with the late South African jazz legend Hugh Masekela, who passed away in 2018, and for 'Bambaya Fire' she re-recorded his 'Market Place' as a show of respect. 'Should I' and 'Baasuumo Me' ("love me" in Ga, a language mainly spoken in and around the Ghanaian capital Accra) have more of an Afro-pop vibe, but with 'Boom Boom Bang Bang' she returns to her Ghanaian roots for some steaming afrobeat.
More than convincing debut effort, earning SSUE the Ghanaian Artiste Of The Year award at the Ghana Arts and Culture Awards earlier this year!